You Have Our Attention. Now Use it to Launch Your Accounting Career.
Bachelor of Science in Accounting
Individualized Attention
Financial Assistance and Payment Plans Available
Flexible and Asynchronous
Want to hear more about Wilson College's online Bachelor of Science in Accounting (BS Accounting) program?
Fill out the form below, and an admissions representative will reach out to you via email or phone with more information. After you've completed the form, you'll automatically be redirected to learn more about Wilson College Online and your chosen program.
or call +1 (717) 297-1002
By submitting this form, I affirm that I have read and agree to the Privacy Policy. I am also providing my digital signature agreeing that Wilson College Online may email me or contact me regarding educational services by telephone and/or text message utilizing automated technology at the telephone number(s) provided above. I understand this consent is not a condition to attend Wilson College Online or to purchase any other goods or services.
Thank you for your interest!
Redirecting you now...
Develop the Skills for a Consistently In-Demand Profession
As long as there are businesses, there will be a need for accounting professionals. All businesses, big or small, need trained number crunchers who can balance the books, monitor potential changes in tax codes, and set spending budgets. You can help fill this need when you earn a Bachelor of Science in Accounting from Wilson College Online.
When you enroll in our B.S. in Accounting program, you'll be introduced to foundational accounting skills and strategies that will prepare you for a successful career. Not only will you gain key career skills, but our commitment to ethics and social good will also ensure you always use your career to improve the world around you.
Are you ready to start your career in accounting? Join us at Wilson College Online.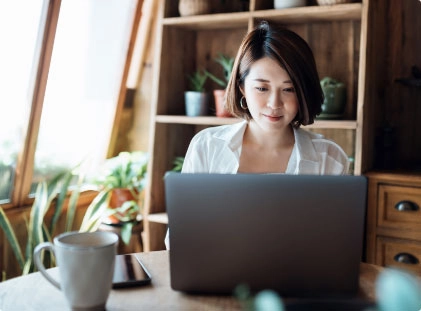 Prepare Yourself for an Accounting Career
Our courses cover every aspect of the accounting profession you'll need to launch your career, from accounting information systems and tax law to statistics and business communication. On top of these career-focused accounting skills, our degree will also prepare you to navigate the ever-changing dynamics of modern business with an emphasis on ethical decision-making and international business. By the time you graduate, you'll be able to:
Comprehend and distribute technical and financial information
Communicate critical financial information to key stakeholders
Work in a team environment
What Will You Do With Your
Accounting Degree?
Year after year, the accounting profession sees steady growth, making the job market excellent for new graduates pursuing a wide variety of careers.
Internships are an integral part of the accounting program, providing students with real-world experience, exposure to various accounting settings, and career planning resources.
The median salary for accounting and auditing professionals is $77,250 according to the Bureau of Labor Statistics. A degree in accounting can lead to opportunities in:
Public Accounting
Financial institutions
Manufacturing
Merchandising
Service enterprises
Federal, state, or local government
Nonprofit organizations
Graduate programs, business
school, or law school
Get Your Degree While You Work
The next class start date is approaching. Don't wait to apply!
We know you're more than just a student and you have many responsibilities outside of school. That's why we offer flexible, asynchronous online courses that allow you to study at your own pace, on your own schedule.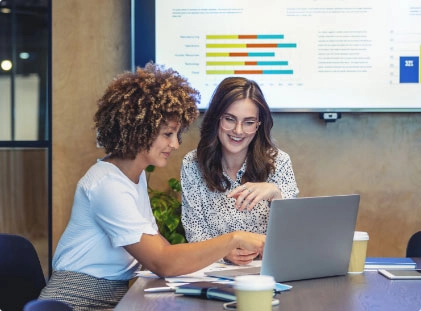 Our online B.S. in Accounting is keenly focused on giving you the exact skills employers seek. Throughout the program, you'll learn how to analyze technical information, communicate qualitative and quantitative findings effectively, and work with people across a variety of departments in your organization.
What Sets Wilson College Online Apart
13:1 Student-to-Faculty Ratio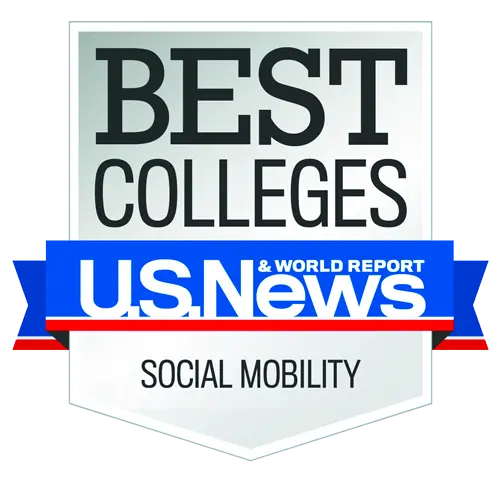 Named a "Top Performer on Social Mobility" in the North by U.S. News
Focus on Ethical Education
About Wilson College
Initially founded as an all-women's college in 1869, Wilson College's mission is to empower students to be confident critical thinkers, creative visionaries, effective communicators, honorable leaders, and agents of justice in their communities. Across all programs and fields of study, the College is fiercely committed to and passionate about providing student-centric education and individualized attention, ensuring all students succeed.