With rapidly advancing technologies, constantly shifting consumer sentiments, and volatile political climates around the globe, the business world is more dynamic and intricate than ever. Success in today's business landscape requires specialized, practical training and education that reflects modern markets.
All of Wilson College Online's business degrees are focused on your success. No matter what program you choose, you'll receive unparalleled support and practical, industry-tested skills that will help you thrive in today's business world. Our approachable faculty use their professional experience to provide you with lessons and strategies you can seamlessly apply in real-world business settings. Nobody finds success in business on their own, and at Wilson College, you'll get the support you need to thrive.
Looking at the Future of Business
Business is one of the most consistently healthy industries in the United States, and earning a degree in business will give you the skills and credentials to make an impact in a variety of settings. With a Wilson College Online business degree in hand, you'll position yourself for meaningful career growth that can increase your earning potential and allow you to live a more comfortable, stable life.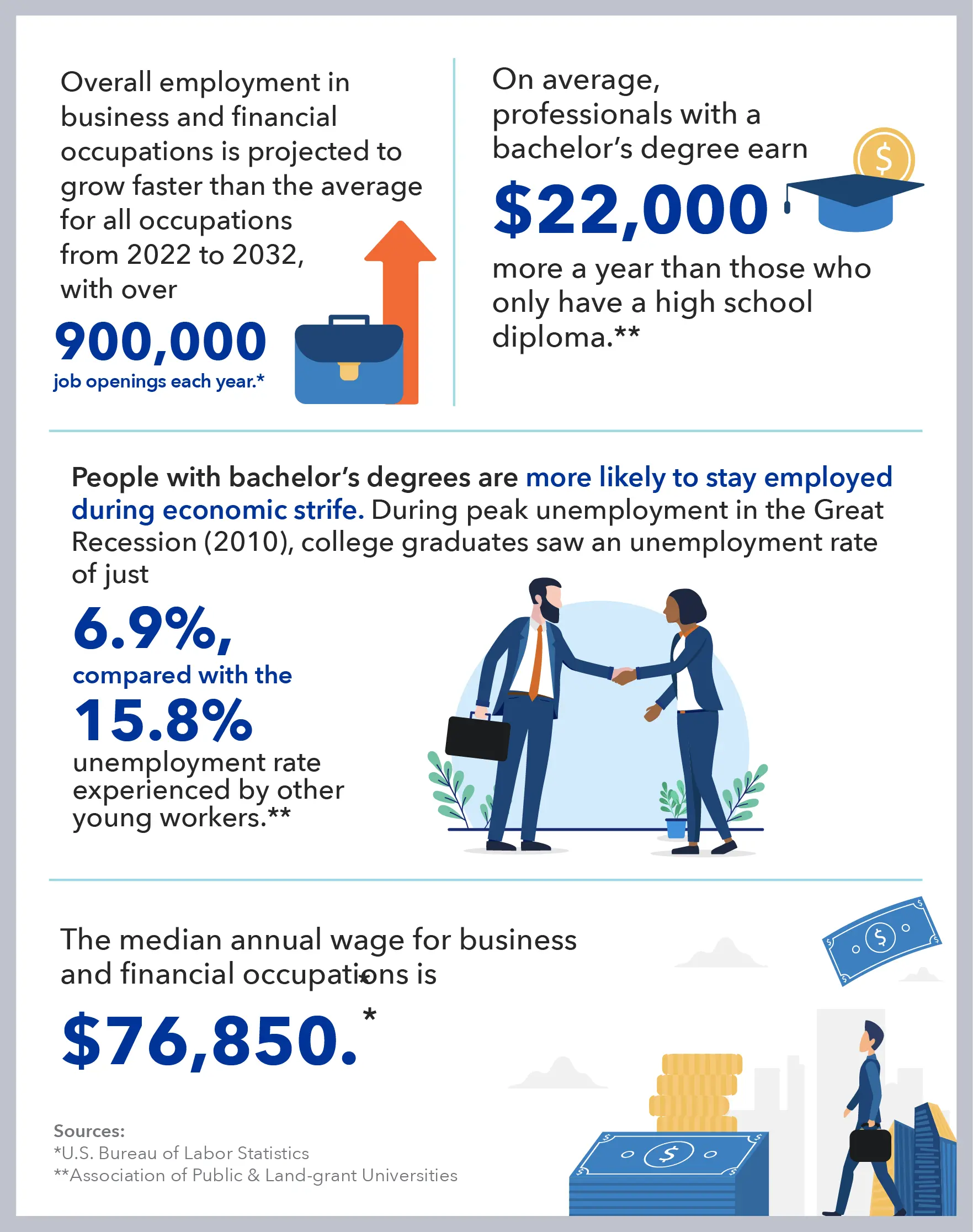 Frequently Asked Questions
Can I switch majors within the undergraduate business programs after I've started?
Absolutely! Each business program requires the same core prerequisite courses, so switching majors is simple. That being said, switching majors after completing the prerequisites will delay your graduation timeline, so we recommend switching early in your degree program rather than later.
Can I get my degree while I work?
Of course! We want you to have your best opportunity for both academic and career success, and we know that means giving you the opportunity to learn in the ways that are most beneficial for you. Our asynchronous online courses and self-paced degree programs mean you can take courses and earn your degree on your own schedule, without sacrificing any other obligations.
Is an internship required for a business degree?
No. An internship with an employer is not required to complete an online business degree program. An alternative course can be taken instead, making the process easier for online students.
If I enroll as an online student, can I also take courses on campus?
Yes, potentially. Wilson College Online students may be granted approval to take on-campus courses, on a case-by-case basis.
Do I need to have a business degree or experience to enroll in the Master of Organizational Leadership?
The Master of Organizational Leadership program does not require you to have any prior business experience or credentials to gain admission. You can learn more about admissions requirements
here
.
Want to hear more about Wilson College's online programs?
Fill out the form below, and an admissions representative will reach out to you via email or phone with more information. After you've completed the form, you'll automatically be redirected to learn more about Wilson College Online and your chosen program.
or call +1 (717) 297-1002
By submitting this form, I affirm that I have read and agree to the Privacy Policy. I am also providing my digital signature agreeing that Wilson College Online may email me or contact me regarding educational services by telephone and/or text message utilizing automated technology at the telephone number(s) provided above. I understand this consent is not a condition to attend Wilson College Online or to purchase any other goods or services.
Thank you for your interest!
Redirecting you now...