Master of Science in Nursing
Bring Your Future Into Focus
Customize Your Journey to Nursing Excellence ¶
Nursing isn't just an occupation—it's a vocation, a calling. As recent world events have proved, few careers are more important and impactful than nursing. If you're looking to advance your influence, Wilson College Online's Master of Science in Nursing (MSN) program can empower you to do more.
At Wilson, we offer you a choice of two MSN tracks—Education or Leadership and Management—so that you can pursue the path that works best for your career goals. The Education track prepares you to work as a clinical instructor, as a professor, or in staff education roles. The Education track also includes the coursework required to continue toward a nurse practitioner certification after graduation. The Leadership and Management track allows for administrative advancement in fields such as nursing, healthcare business, allied health, and quality assurance. If you're interested in continuing to the doctoral level after completing the MSN online program, both tracks can lead to a PhD in nursing.
Because we value the nursing experience you're coming in with, our unique program requires no clinical hours. You can earn your degree anytime, anywhere—without disrupting your schedule. Are you ready to get the education you need to become a nursing leader? It's time to join us at Wilson.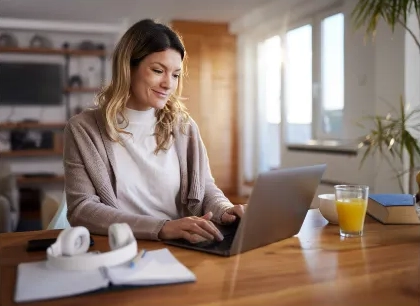 Choose Wilson for Your MSN Degree
Our 36-credit online MSN program provides an affordable and accelerated pathway to gain the research-based foundations and applied leadership strategies to become a transformative nursing leader and educator. During your time in the program, you'll learn to:
Manage quality improvement, health policy, and ethical care across healthcare settings
Develop ideologies of holistic care so that you can treat the whole patient effectively
Distribute your newfound nursing knowledge through education
Function as a confident leader who knows how to implement cutting-edge nursing practices
What Will You Do With Your MSN Degree?
Whether you choose the Education or Leadership and Management track, our online MSN prepares you with the dynamic skill set to serve in a variety of purpose-based roles. Upon graduation, you'll be prepared for careers such as:
Education Track
Nurse educator
Professor
Nurse health coach
Clinical instructor
Program director
Staff development
Continued study toward nurse practitioner
Leadership and Management Track
Nurse manager
Nurse recruiter
Chief nursing officer
Magnet® recognized hospital administrator
Nurse navigator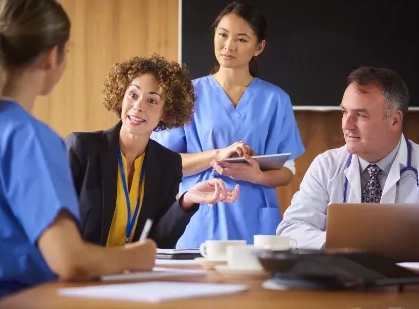 Tuition and Aid
per credit
36 total credits
Financial assistance and payment plans available
Wilson College Online is committed to making your education as affordable as possible. We're proud to offer online courses at per credit hour as a private college. Plus, our dedicated financial services team will help you along the way.
Learn More About Financing Your Degree
Personal Learning Environment
Our 13:1 student-to-faculty ratio ensures every student gets the individualized attention they deserve.
Flexible Coursework
Asynchronous coursework allows you to work at your own pace with no set class times—enabling you to earn a degree when and where it makes sense for you.
Attentive Faculty
Our devoted faculty truly care about your success, both in the classroom and beyond. Their virtual door is always open for mentorship, career advice, and academic support.
Regional Recognition
Wilson College provides the opportunity for transformative education, which is why U.S. News named the institution among the Top Performers on Social Mobility in the North.
Ethical Education
Our liberal studies emphasis creates agents of justice who fuel meaningful positive change in society. You'll learn to put your accounting degree toward social good.
Sense of Belonging
Our online programs honor Wilson's rich history of providing accessible and inclusive education. No matter your background, you belong at Wilson.
The next class start date is approaching. Don't wait to apply!
Get Your Degree While You Work
We know you're more than just a student and you have many responsibilities outside of school. That's why we offer flexible, asynchronous online courses that allow you to study at your own pace, on your own schedule.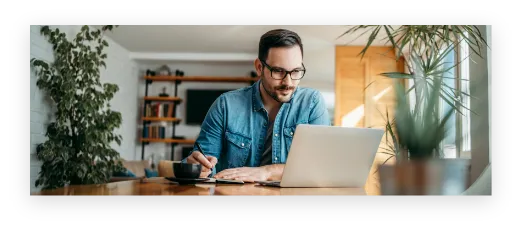 What You Need for Admission
Entry Requirements for the MSN Program
Official baccalaureate transcript(s)
Active RN license in the state in which you practice
GPA of 3.0 (A lower GPA may be accepted upon interview and conditions set at the discretion of the program director.)
Resume or CV
Upon acceptance into the MSN program, additional paperwork may be required.
Track-Specific Requirements
Direct entry into the MSN Education track requires a bachelor's in nursing from an accredited college or university.
Direct entry into the MSN Leadership and Management track requires a bachelor's degree in any major.
About Wilson College
Initially founded as an all-women's college in 1869, Wilson College's mission is to empower students to be confident critical thinkers, creative visionaries, effective communicators, honorable leaders, and agents of justice in their communities. Across all programs and fields of study, the College is fiercely committed to and passionate about providing student-centric education and individualized attention, ensuring all students succeed.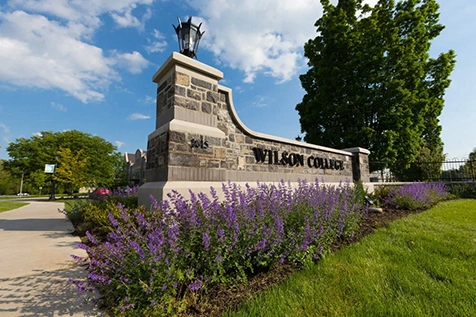 Want to hear more about Wilson College's online programs?
Fill out the form below, and an admissions representative will reach out to you via email or phone with more information. After you've completed the form, you'll automatically be redirected to learn more about Wilson College Online and your chosen program.
or call +1 (717) 297-1002
By submitting this form, I affirm that I have read and agree to the Privacy Policy. I am also providing my digital signature agreeing that Wilson College Online may email me or contact me regarding educational services by telephone and/or text message utilizing automated technology at the telephone number(s) provided above. I understand this consent is not a condition to attend Wilson College Online or to purchase any other goods or services.
Thank you for your interest!
Redirecting you now...