Online Education Programs
Education is more than a career—it's a calling. You get into education because you want to make a difference, be a mentor for children in need, and help plant the seeds for a better future. Wilson College Online's education programs will equip you with the research-backed classroom strategies to grow your educator skill set so you can make an even bigger difference in your community.
Whether you enroll with the hope of launching your career or advancing as a teacher, administrator, or special educator, Wilson College's online education programs will give you the knowledge and support to reach your career goals. As a master's degree student, you'll benefit from putting newfound strategies and knowledge into practice in your current role as an educator. For those looking to become teachers, you'll get real-world experience in actual classrooms and education settings in your community as part of your degree.
Earning an education degree from Wilson College Online will make you a confident educator who makes a greater impact every day. Apply today!
State of the Education Industry
Across the country, school districts are in need of educators, whether in elementary schools, district offices, or special education classrooms. While the teacher shortage is slowly improving, there's still a significant need for education professionals. With an education degree from Wilson College Online, you can fill that need and make a noticeable difference on the educational systems in your community.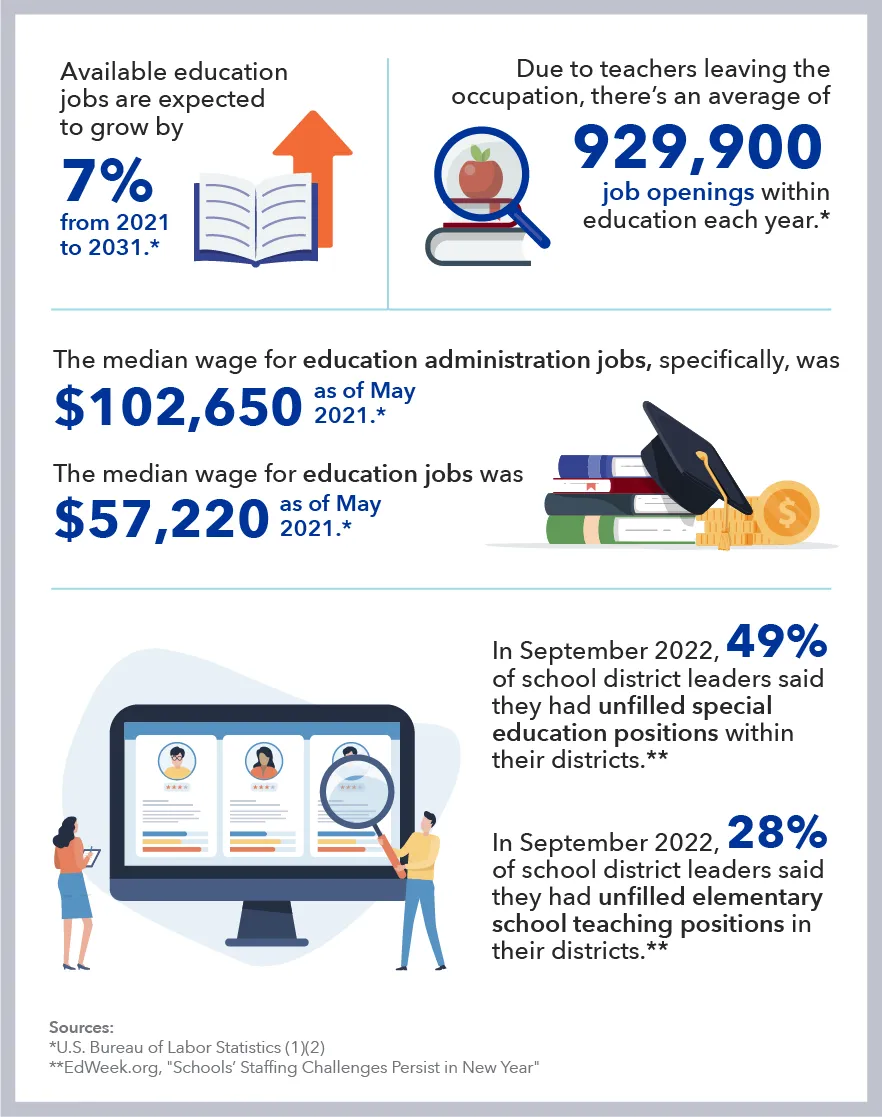 Frequently Asked Questions
Do any of the online education degrees offer teaching certification or credentials?
The B.A. in Early Childhood Education will allow you to earn the pre-K/elementary certification in Pennsylvania. and the B.A. in Special Education will prepare you to earn certification to become a licensed special educator in Pennsylvania.
If I get an education degree, can I only become a teacher?
A common misconception is that an education degree only leads to teaching careers; however, with an education degree, you can start a career in corporate training, early childhood development, higher education administration, and nonprofit management, to name a few examples.
Can I earn my education degree while I work?
Absolutely! All online programs at Wilson College are designed with you and your responsibilities in mind. Asynchronous courses and self-paced degree plans allow you to earn your degree without having to sacrifice your job, family, or anything else you love. The B.A. in Special Education, however, requires a two- to three-month practicum that is a full-time commitment—but the rest of the degree is asynchronous and self-paced.
Are there any student-teaching requirements for any of the education programs?
The B.A. in Early Childhood Education (ECE) has a 60-day student-teaching requirement that must be completed in a Pennsylvania school. The B.A. in Special Education also has a similar two- to three-month, full-time practicum requirement.
Want to hear more about Wilson College's online programs?
Fill out the form below, and an admissions representative will reach out to you via email or phone with more information. After you've completed the form, you'll automatically be redirected to learn more about Wilson College Online and your chosen program.
or call +1 (717) 297-1002
By submitting this form, I affirm that I have read and agree to the Privacy Policy. I am also providing my digital signature agreeing that Wilson College Online may email me or contact me regarding educational services by telephone and/or text message utilizing automated technology at the telephone number(s) provided above. I understand this consent is not a condition to attend Wilson College Online or to purchase any other goods or services.
Thank you for your interest!
Redirecting you now...