Online LPN to BSN
You Have Our Attention. Now Find Your Purpose.
Become an RN at an Accelerated Pace at Wilson College
The last few years have proven without a doubt just how important and indispensable you are as a licensed practical nurse. You've likely already made a tremendous impact on your patients during your career, but with a Bachelor of Science in Nursing from Wilson College, you can be even more transformative as a practitioner—all while advancing your career.
Our focus on research-backed and evidence-based practice strategies will give you the upgraded skills to broaden the effect you have on your patients. Thanks to three hands-on clinical experiences during your degree, you'll have the opportunity to put your newly developed clinical skills into practice in real time. You'll even develop new communication and problem-solving skills that'll allow you to better connect with both patients and peers alike.
Are you ready to upgrade your nursing career? Join us at Wilson College.
Please note that an LPN license is required for admission.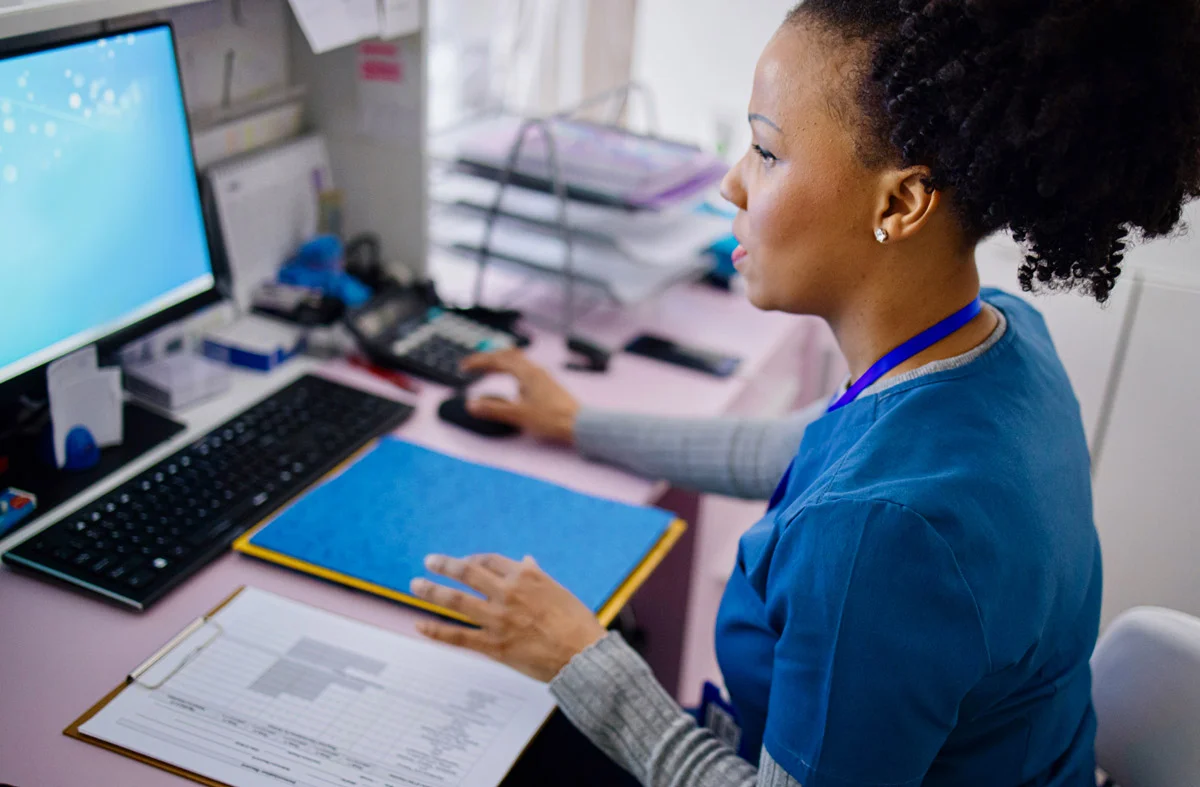 Reframe Your Expectations of Your Nursing Career
Our online LPN to BSN program is specifically designed to build upon your experience as an LPN to give you a more effective and efficient nursing education. The flexible online format even allows you to keep your current job as you earn your degree and prepare for the National Council Licensure Examination (NCLEX). You don't have to put your career on hold as you learn to:
Bring evidence-based research into practice
Treat the whole patient with an emphasis on holistic practice
Communicate and make meaningful connections with patients, their families, and other healthcare professionals
Identify current trends and issues in the nursing practice and how they can be addressed
During the final three semesters of the program, you'll have the opportunity to put your newly learned skills into practice with hands-on clinical experiences. These clinical experiences are the only in-person elements of the degree and can be completed in three separate 80-hour increments on campus at Wilson College. If you live more than two hours away from Wilson College, you can choose our low-residency option, where you complete your clinical requirements over 7-10 days for each of the final three terms. Low-residency students are welcome to stay in a residence hall on campus.
Do More With Your Nursing Career
At Wilson College, we see the value of your previous practice and experience; that's why we count it toward your degree. The online LPN to BSN program offers 18 credits to students with a valid nursing license for nursing studies, and up to an additional 54 credits for coursework completed as part of your prelicensure studies. In accordance with national standards, students will complete a minimum of 48 credits at Wilson College to reach a total of 120 semester hours.
Check out some of the key highlights of our program:
Earning your BSN from Wilson College allows you to meet all the necessary requirements to sit for the NCLEX exam—our LPN to BSN graduates have a 90 percent pass rate—to become a registered nurse.
The degree can be completed in as little as three years, with flexible, online coursework designed for working adults.
We provide a free and fast transcript and program qualification review.
The program is accredited by the National League for Nursing Commission for Nursing Education Accreditation (NLN CNEA).
Program course objectives are closely tied to the following national standards:

Essentials of Baccalaureate Education for Professional Nursing Practice
Recommended Baccalaureate Competencies and Curricular Guidelines for the Nursing Care of Older Adults
Quality and Safety Education for Nurses (QSEN) competencies
American Nurses Association Code of Ethics
The TIGER Initiative
240 hours of hands-on clinical experience spread across three semesters.

The low-residency option offers students more than two hours away from Wilson College the ability to come to campus once a semester and complete their clinical requirements over 7-10 days. Students will also have the option to stay in a dorm on campus.
As long as you meet the program requirements, you don't have to reapply to get into clinicals. They'll be assigned at the start of your program, so you won't have to wait for a clinical spot to become available.
Curriculum & Courses
Degree Requirements
The following are the major's requirements. Students must also fulfill all other requirements in the degree to obtain 120 credits for graduation.
This program is designed specifically for nurses with a valid LPN license in their state, with online classes and in-person clinical experiences in the final three semesters.
NUR 105 meets the health and wellness requirement for ESS 281.
Tuition and Financial Aid

per credit hour
6-14 credits per semester
Financial assistance and payment plans available
Wilson College Online is committed to making your education as affordable as possible. We're proud to offer online courses at
per credit hour as a private college. Plus, our dedicated financial services team will help you get the aid you deserve, including working with you on tuition reimbursement from your employer.
Learn More About Financing Your Degree
Become an RN
Our LPN to BSN students have a 90 percent NCLEX pass rate. Our degree program is focused on you and your success, putting you on the path to becoming a registered nurse.
Clinical Experience
We include 240 hours of hands-on clinical experience in our curriculum, ensuring that students have a chance to put their new skills into practice before they graduate.
Experienced Faculty
Our nursing faculty have been in your shoes, on the floor, at the bedside. We recognize the value of LPNs and relish the opportunity to help you grow in your nursing career and education.
Regional Recognition
Wilson College provides the opportunity for transformative education, which is why U.S. News named the institution among the Top Performers on Social Mobility in the North.
Ethical Education
Our liberal studies emphasis creates agents of justice who fuel meaningful positive change in society. You'll learn to put your accounting degree toward social good.
Sense of Belonging
Our online programs honor Wilson's rich history of providing accessible and inclusive education. No matter your background, you belong at Wilson.
Get Your Degree While You Work
The next class start date is approaching. Don't wait to apply!
We know you're more than just a student and you have many responsibilities outside of school. That's why we offer flexible, asynchronous online courses that allow you to study at your own pace, on your own schedule.

What You Need for Admission
Students interested in any of the nursing programs will apply directly to the Department of Nursing. Wilson College is a member of the National Council for State Authorization Reciprocity Agreement (NC-SARA). Further information can be found  here. In earning your BSN from Wilson College Nursing, you will meet all the necessary requirements to sit for the National Council Licensure Exam (NCLEX — RN) and can move forward with Nursing Licensure in the state of Pennsylvania. Wilson College has not made a determination of requirements for each state, so please click here for detailed requirements on all 50 states.
As a prospective student seeking admission into the LPN to BSN online program, you must submit the following items to be considered for admission:
An official high school transcript or GED (minimum unweighted GPA of 3.0)
An official transcript from the school that conferred your LPN license
All official college transcripts from all schools attended during or after high school (minimum combined GPA of 3.0 across all post-secondary transcripts)
TEAS test results (must be less than 4 years old and a score of 65 or higher)
Your current, active LPN nursing license (number required for verification)
Professional Licensure Notice
In earning your BSN from Wilson College Nursing, you'll meet all the necessary requirements to sit for the National Council Licensure Examination for Registered Nurses (NCLEX-RN) and can move forward with nursing licensure in the state of Pennsylvania. Other states that Wilson College Nursing graduates have sat for the NCLEX-RN include Maryland, Florida, New York, Louisiana, Virginia, and West Virginia. If you plan to practice your nursing profession in a state not listed above, please visit nursinglicensure.org for requirements by state.
About Wilson College
Initially founded as an all-women's college in 1869, Wilson College's mission is to empower students to be confident critical thinkers, creative visionaries, effective communicators, and agents of justice in their communities. Across all programs and fields of study, the College is fiercely committed to and passionate about providing student-centric education and individualized attention and support to ensure our students succeed.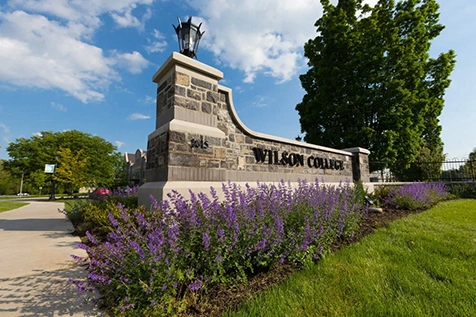 Want to hear more about Wilson College's online programs?
Fill out the form below, and an admissions representative will reach out to you via email or phone with more information. After you've completed the form, you'll automatically be redirected to learn more about Wilson College Online and your chosen program.
or call +1 (717) 297-1002
By submitting this form, I affirm that I have read and agree to the Privacy Policy. I am also providing my digital signature agreeing that Wilson College Online may email me or contact me regarding educational services by telephone and/or text message utilizing automated technology at the telephone number(s) provided above. I understand this consent is not a condition to attend Wilson College Online or to purchase any other goods or services.
Thank you for your interest!
Redirecting you now...