Bachelor of Arts in Criminal Justice
Bring Your Future Into Focus
Earn a Criminal Justice Degree That Fuels Social Good
Criminal justice professionals serve on the front line of our nation's legal systems. They have the power to transform lives and communities through ethical leadership. At Wilson College Online, our criminal justice program places focus on diversity, ethics, and critical thinking—empowering you to become an agent of change across a variety of fields.
Whether you're interested in law enforcement, corrections, criminology, juvenile reform, or nonprofit work, our degree in criminal justice can prepare you for a lifetime of impact. Our real-world curriculum and expert faculty will position you to use your degree for social good so that you can embark on a career of purpose.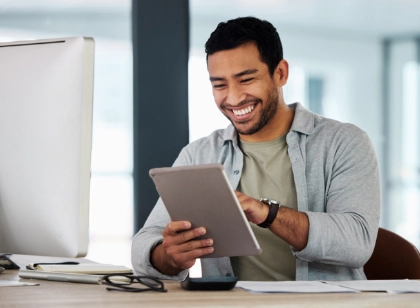 Choose Wilson for Your Criminal Justice Degree
Our online criminal justice program prepares you with the in-demand skills for employment and the communication skills to advance your career. You'll learn to become an ethical and social justice-oriented leader who can:
Demonstrate comprehensive knowledge of the main elements of the criminal justice system
Interpret complex information to make informed conclusions in a criminal justice role
Cultivate ethical reasoning and awareness in preparation for your chosen profession
Engage in diverse and inclusive perspectives on the criminal justice system Apply your knowledge and skills in real-world contexts
What Will You Do With Your Criminal Justice Degree?
A degree in criminal justice prepares you for a variety of fulfilling careers beyond law enforcement. All criminal justice majors interact with professionals in various areas of criminal justice and complete internships or experiential learning activities so that they can discover where their passions reside.
Some potential career paths include:
Paralegal
Security analyst
Victim advocate or counselor
U.S. National Park Service ranger
Legal assistant
Nonprofit manager
Law enforcement officer
Legal assistant
Nonprofit manager
Law enforcement officer
Corrections officer
Parole or probation officer
Criminal investigator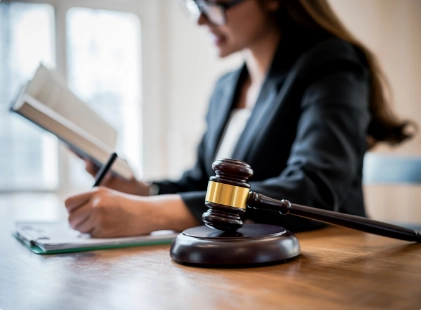 Curriculum & Courses
Major Requirements
The following are the major's requirements. Students must also fulfill all other requirements in the degree to obtain 120 credits for graduation.
Tuition and Financial Aid
per credit hour
6-14 credits per semester
98% of students receive financial aid
Wilson College Online is committed to making your education as affordable as possible. We're proud to offer online courses at per credit hour as a private college—which is lower than the national average cost of four-year public universities. Plus, our dedicated financial services team will help you get the aid you deserve.
Learn More About Financing Your Degree
Personal Learning Environment
Our 13:1 student-to-faculty ratio ensures every student gets the individualized attention they deserve.
Flexible Coursework
Asynchronous coursework allows you to work at your own pace with no set class times—enabling you to earn a degree when and where it makes sense for you.
Attentive Faculty
Our devoted faculty truly care about your success, both in the classroom and beyond. Their virtual door is always open for mentorship, career advice, and academic support.
Regional Recognition
Wilson College provides the opportunity for transformative education, which is why U.S. News named the institution among the Top Performers on Social Mobility in the North.
Ethical Education
Our liberal studies emphasis creates agents of justice who fuel meaningful positive change in society. You'll learn to put your accounting degree toward social good.
Sense of Belonging
Our online programs honor Wilson's rich history of providing accessible and inclusive education. No matter your background, you belong at Wilson.
Get Your Degree While You Work
The next class start date is approaching. Don't wait to apply!
We know you're more than just a student and you have many responsibilities outside of school. That's why we offer flexible, asynchronous online courses that allow you to study at your own pace, on your own schedule.

What You Need for Admission
We believe in equitable education and the individuality of every student. Each student has had their own experiences that have led them to Wilson, and those specific experiences should be weighed when a student is applying for admission.

That's why Wilson College Online reviews every application on a holistic, case-by-case basis, without any steadfast GPA or standardized test score requirements. Every student's application is assessed solely on their own merits, not against any hardline admission requirements.
Required Documents for
First-Time-in-College Applicants
Official high school transcript
Required Documents for
Transfer Applicants
Official high school transcript
Official college transcript(s)
About Wilson College
Initially founded as an all-women's college in 1869, Wilson College's mission is to empower students to be confident critical thinkers, creative visionaries, effective communicators, and agents of justice in their communities. Across all programs and fields of study, the College is fiercely committed to and passionate about providing student-centric education and individualized attention and support to ensure our students succeed.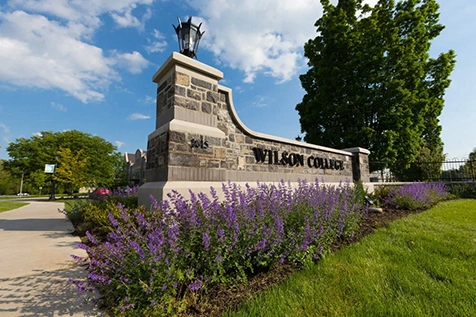 Want to hear more about Wilson College's online programs?
Fill out the form below, and an admissions representative will reach out to you via email or phone with more information. After you've completed the form, you'll automatically be redirected to learn more about Wilson College Online and your chosen program.
or call +1 (717) 297-1002
By submitting this form, I affirm that I have read and agree to the Privacy Policy. I am also providing my digital signature agreeing that Wilson College Online may email me or contact me regarding educational services by telephone and/or text message utilizing automated technology at the telephone number(s) provided above. I understand this consent is not a condition to attend Wilson College Online or to purchase any other goods or services.
Thank you for your interest!
Redirecting you now...