Online RN to MSN
Bring Your Future Into Focus
Discover Your Path to Nursing Excellence ¶
Nursing is more than just an occupation—it's a calling. You've seen firsthand the importance of your work's impact, and now it's time to build on your existing experience to do more with your career.
Our program was designed for nurses who have a diploma or associate degree in nursing and at least three years of work experience. Because we value the on-the-job skills you're coming in with, we require no clinical hours—empowering you to earn your degree anytime, anywhere, without disrupting your schedule.
At Wilson, we offer you a choice of two RN to MSN tracks—Education or Leadership and Management—so that you can pursue the path that works best for your career goals. The Education track prepares you to work as a clinical instructor, professor, or staff educator and includes the required coursework to continue toward a nurse practitioner certification after graduation. The Leadership and Management track allows for administrative advancement in fields such as nursing, healthcare business, allied health, and quality assurance. If you're interested in continuing to the doctoral level after your RN to MSN online program, both tracks can lead to a PhD in nursing.
Are you ready to get the education you need to become a nursing leader? It's time to join us at Wilson.
Please note that an RN license is required for admission.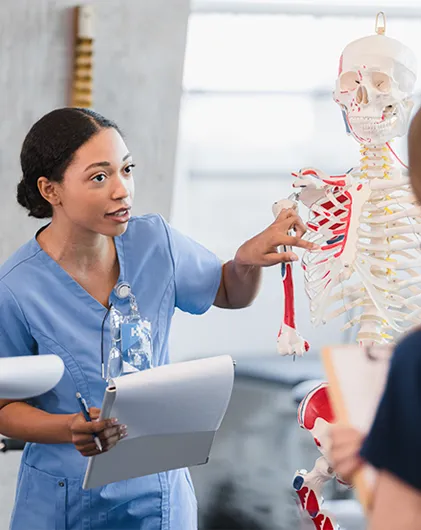 Choose Wilson for Your RN to MSN Degree
Our online RN to MSN program provides an accelerated pathway to gain the research-based foundations and applied leadership strategies to become a transformative nursing leader or educator. While both tracks will teach students to manage quality improvement, health policy, and ethical care across healthcare settings, each track also has specific learning outcomes, including:
MSN Education
Curriculum planning and design
Student assessment and evaluation techniques
Technology and informatics applications that support learning
Political, social, and institutional factors that influence the nurse educator role
MSN Leadership and Management
Policy development and implementation
Economics, business management, and quality improvement
Project management and data analysis
Social, cultural, and political factors that influence the healthcare system
What Will You Do With Your MSN Degree?
Whether you choose the Education or Leadership and Management track, our online RN to MSN prepares you with the dynamic skill set to serve in a variety of purpose-based roles. Upon graduation, you'll be prepared for careers such as:
Education Track
Nurse educator
Professor
Nurse health coach
Clinical instructor
Program director
Staff development
Continued study toward nurse practitioner
Leadership and Management Track
Nurse manager
Nurse recruiter
Chief nursing officer
Magnet® recognized hospital administrator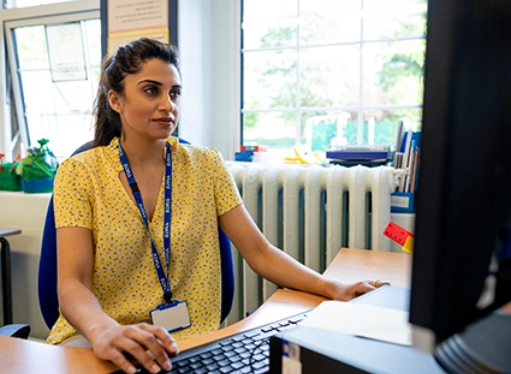 Curriculum & Courses
The RN to MSN program requires no clinical hours and is intended for nurses who have a diploma or associate degree in nursing, along with at least three years of experience. Students do not earn a bachelor's degree, so they need careful advising to ensure that this plan of study is appropriate for their career goals. In this program, students complete three semesters (one year) of bridge courses designed to prepare them for success in a graduate program. After successful completion of the bridge, students enter the MSN program.
Tuition and Aid
per credit
54 credits
Financial aid available
Wilson College Online is committed to making your education as affordable as possible. We're proud to offer online courses at per credit hour as a private college. Plus, our dedicated financial services team will help you along the way.
Learn More About Financing Your Degree
Personal Learning Environment
Our 13:1 student-to-faculty ratio ensures every student gets the individualized attention they deserve.
Flexible Coursework
Asynchronous coursework allows you to work at your own pace with no set class times—enabling you to earn a degree when and where it makes sense for you.
Attentive Faculty
Our devoted faculty truly care about your success, both in the classroom and beyond. Their virtual door is always open for mentorship, career advice, and academic support.
Regional Recognition
Wilson College provides the opportunity for transformative education, which is why U.S. News named the institution among the Top Performers on Social Mobility in the North.
No Clinical Hours
We value the clinical experience you've gained through working at the bedside. Regardless of the track you choose, no clinical hours are required to earn your MSN.
Sense of Belonging
Our online programs honor Wilson's rich history of providing accessible and inclusive education. No matter your background, you belong at Wilson.
The next class start date is approaching. Don't wait to apply!
Get Your Degree While You Work
We know you're more than just a student and you have many responsibilities outside of school. That's why we offer flexible, asynchronous online courses that allow you to study at your own pace, on your own schedule.

What You Need for Admission
Entry requirements for the RN to MSN program:
A diploma or associate degree in nursing from an accredited college or university, a minimum of three years of nursing experience, or a clinical recommendation
Active RN license in the state in which you practice
GPA of 3.0 (A lower GPA may be accepted upon interview and conditions set at the discretion of the program director.)
Resume
Upon acceptance into the RN to MSN program, additional paperwork may be required.
About Wilson College
Initially founded as an all-women's college in 1869, Wilson College's mission is to empower students to be confident critical thinkers, creative visionaries, effective communicators, honorable leaders, and agents of justice in their communities. Across all programs and fields of study, the College is fiercely committed to and passionate about providing student-centric education and individualized attention, ensuring all students succeed.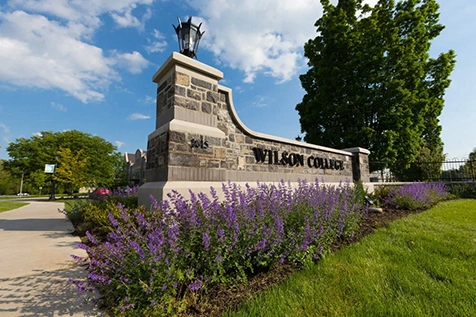 Want to hear more about Wilson College's online programs?
Fill out the form below, and an admissions representative will reach out to you via email or phone with more information. After you've completed the form, you'll automatically be redirected to learn more about Wilson College Online and your chosen program.
or call +1 (717) 297-1002
By submitting this form, I affirm that I have read and agree to the Privacy Policy. I am also providing my digital signature agreeing that Wilson College Online may email me or contact me regarding educational services by telephone and/or text message utilizing automated technology at the telephone number(s) provided above. I understand this consent is not a condition to attend Wilson College Online or to purchase any other goods or services.
Thank you for your interest!
Redirecting you now...