Nurses are more than just healthcare professionals—they're caretakers with a greater calling. They have a vocation to help, to heal, and to practice compassion toward fellow human beings. Nurses touch life before it comes into this world, and they help as life comes to an end, making for a career that truly embodies the entire spectrum of the human experience.
No matter where you are in your nursing journey, or where you're trying to go, Wilson College Online's nursing programs can empower you to make a more profound impact in the communities you care about most. Our devoted faculty, holistic curricula, and flexible classes allow you to advance your career while discovering meaningful personal and professional growth.
Critical Demand for Compassionate Nursing Experts
Few professions are experiencing higher demand than nursing—and the more you learn, the more you can earn. At Wilson College Online, you'll get the personalized education you need to reach your career goals and serve as an empathetic nursing professional who meaningfully influences patients' lives.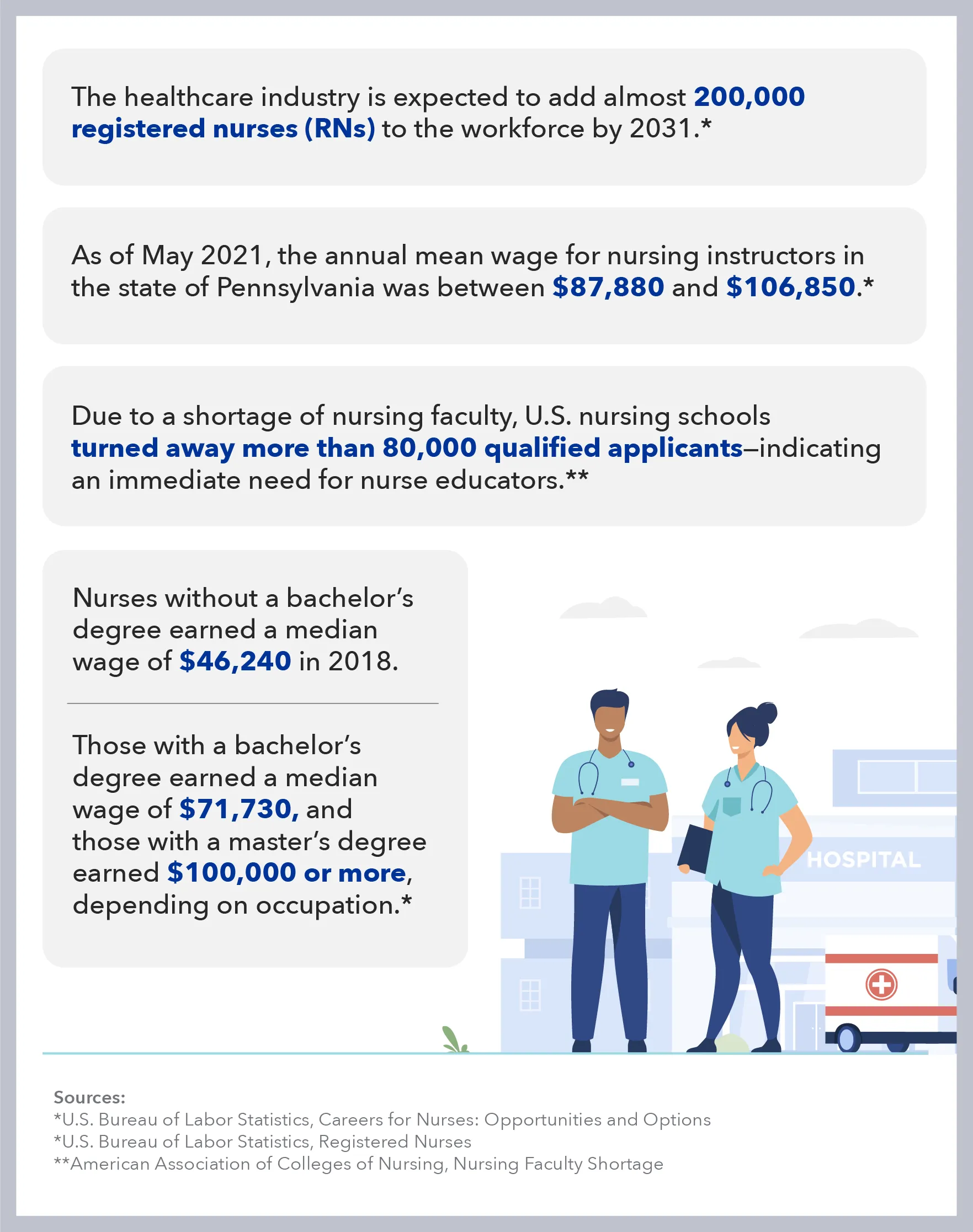 Frequently Asked Questions
Can I earn my degree while I work?
Yes. All Wilson College Online programs are part-time, asynchronous, and designed to be completed without sacrificing your current responsibilities. Our faculty and advising services will help you build your path to graduation.
Does the RN to MSN program award a bachelor's degree?
No. Students do not obtain a baccalaureate degree and should work closely with advisors to ensure the plan of study is appropriate for their career goals.
Do the RN to MSN and MSN programs require clinical hours?
No. We value your on-the-job work experience, which is why we are proud to offer a route to earning your MSN without additional clinical coursework.
Do the RN to BSN or LPN to BSN programs require clinical hours?
The RN to BSN program does not require clinical coursework, but LPN to BSN students are required to complete 240 hours of hands-on clinical experience. LPN to BSN students complete clinicals on campus at Wilson College. A low residency option is available for students who live two hours or more from campus.
Depending on how many credits you transfer in, you can complete the LPN to BSN program in as few as two and a half years.
Are Wilson's nursing programs accredited?
Yes. All nursing programs are accredited by the National League for Nursing Commission for Nursing Education Accreditation (NLN CNEA).
Does the LPN to BSN program prepare me for professional licensure?
Yes. When you earn a BSN from Wilson College, you'll meet all the necessary requirements to sit for the National Council Licensure Examination for Registered Nurses (NCLEX-RN) and can move forward with nursing licensure in the state of Pennsylvania. Our graduates have also sat for the NCLEX-RN in Maryland, Florida, New York, Louisiana, Virginia, and West Virginia.
If you plan to practice your nursing profession in a state not listed above, please visit nursinglicensure.org for requirements by state.
Want to hear more about Wilson College's online programs?
Fill out the form below, and an admissions representative will reach out to you via email or phone with more information. After you've completed the form, you'll automatically be redirected to learn more about Wilson College Online and your chosen program.
or call +1 (717) 297-1002
By submitting this form, I affirm that I have read and agree to the Privacy Policy. I am also providing my digital signature agreeing that Wilson College Online may email me or contact me regarding educational services by telephone and/or text message utilizing automated technology at the telephone number(s) provided above. I understand this consent is not a condition to attend Wilson College Online or to purchase any other goods or services.
Thank you for your interest!
Redirecting you now...