RN to BSN Program
Bring Your Future Into Focus
Earn Your Nursing Degree at Wilson College Online
As recent world events have proved, nurses are indispensable members of our healthcare system and our society. As an RN, you're already making a difference in the nursing vocation. But if you have the passion and desire to advance your impact in the field, enrolling in a flexible online RN to BSN program can be a meaningful next step.
At Wilson College Online, we empower your advancement with a curriculum rooted in research, evidence-based practice, and holistic care. You'll learn how to communicate and connect with patients from a cohesive, diverse team of faculty members who truly care about your nursing journey—preparing you to do more with your career.
Are you ready to take your practice to the next level? Join us at Wilson College.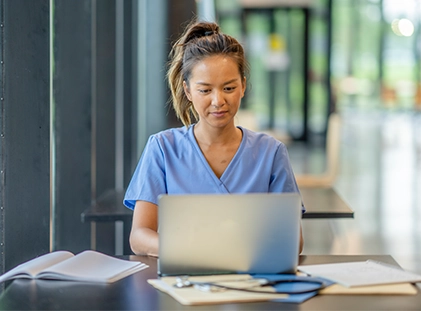 Choose Wilson for Your RN to BSN Education
Wilson College Online is dedicated to providing the real-world insights that allow you to build on your existing nursing skill set. During your time in the program, you'll benefit from:
Hands-on research that focuses on bringing evidence into practice
An emphasis on holistic practice that treats the whole patient
Passionate, experienced faculty who lead and teach through empathy
Mentorship and career services that can open doors in patient care, healthcare informatics, legal work, and mental health
Wilson College Online Advantages
At Wilson College, we see the value of your previous practice and experience; that's why we count it toward your degree. The online RN to BSN program offers 34 credits to students with a valid nursing license for nursing studies, and up to an additional 38 credits for coursework completed as part of your pre-licensure studies. In accordance with national standards, students will complete a minimum of 48 credits at Wilson to reach a total of 120 credits.
Check out some of the key highlights of our program:
The degree can be completed in as little as 18 months, with flexible coursework designed for working adults.
Students receive 34 credits for a valid nursing license and up to an additional 38 credits for prior coursework.
We provide a free and fast transcript and program qualification review.
The program is accredited by the National League for Nursing Commission for Nursing Education Accreditation (NLN CNEA).
Program course objectives are closely tied to the following national standards:

Essentials of Baccalaureate Education for Professional Nursing Practice
Recommended Baccalaureate Competencies and Curricular Guidelines for the Nursing Care of Older Adults
Quality and Safety Education for Nurses (QSEN) competencies
American Nurses Association Code of Ethics
The TIGER Initiative
Curriculum & Courses
Degree Requirements
The following are the major's requirements. Students must also fulfill all other requirements in the degree to obtain 120 credits for graduation.
The RN to BSN is an online completion program for registered nurses with a diploma or associate degree to earn their BSN. This program is 100% online and requires no clinicals.
Tuition and Financial Aid

per credit hour
6-14 credits per semester
Financial assistance and payment plans available
Wilson College Online is committed to making your education as affordable as possible. We're proud to offer online courses at
per credit hour as a private college. Plus, our dedicated financial services team will help you get the aid you deserve, including working with you on tuition reimbursement from your employer.
Learn More About Financing Your Degree
Personal Learning Environment
Our 13:1 student-to-faculty ratio ensures every student gets the individualized attention they deserve.
Flexible Coursework
Asynchronous coursework allows you to work at your own pace with no set class times—enabling you to earn a degree when and where it makes sense for you.
Attentive Faculty
Our devoted faculty truly care about your success, both in the classroom and beyond. Their virtual door is always open for mentorship, career advice, and academic support.
Regional Recognition
Wilson College provides the opportunity for transformative education, which is why U.S. News named the institution among the Top Performers on Social Mobility in the North.
Ethical Education
Our liberal studies emphasis creates agents of justice who fuel meaningful positive change in society. You'll learn to put your accounting degree toward social good.
Sense of Belonging
Our online programs honor Wilson's rich history of providing accessible and inclusive education. No matter your background, you belong at Wilson.
Get Your Degree While You Work
The next class start date is approaching. Don't wait to apply!
We know you're more than just a student and you have many responsibilities outside of school. That's why we offer flexible, asynchronous online courses that allow you to study at your own pace, on your own schedule.

What You Need for Admission
Students interested in any of the nursing programs will apply directly to the Department of Nursing. Wilson College is a member of the National Council for State Authorization Reciprocity Agreement (NC-SARA). Further information can be found  here. In earning your BSN from Wilson College Nursing, you will meet all the necessary requirements to sit for the National Council Licensure Exam (NCLEX — RN) and can move forward with Nursing Licensure in the state of Pennsylvania. Wilson College has not made a determination of requirements for each state, so please click here for detailed requirements on all 50 states.
Entry requirements for the RN to BSN program include:
Active RN license in the state in which the student practices
Completion of Microbiology, Anatomy and Physiology I & II with a lab
Official transcripts from all colleges and universities the student has attended
GPA of at least 2.5 (A lower GPA may be accepted upon interview and conditions set at the discretion of the program director.)
An official high school transcript or GED
About Wilson College
Initially founded as an all-women's college in 1869, Wilson College's mission is to empower students to be confident critical thinkers, creative visionaries, effective communicators, and agents of justice in their communities. Across all programs and fields of study, the College is fiercely committed to and passionate about providing student-centric education and individualized attention and support to ensure our students succeed.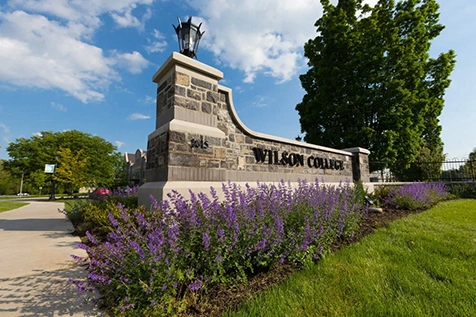 Want to hear more about Wilson College's online programs?
Fill out the form below, and an admissions representative will reach out to you via email or phone with more information. After you've completed the form, you'll automatically be redirected to learn more about Wilson College Online and your chosen program.
or call +1 (717) 297-1002
By submitting this form, I affirm that I have read and agree to the Privacy Policy. I am also providing my digital signature agreeing that Wilson College Online may email me or contact me regarding educational services by telephone and/or text message utilizing automated technology at the telephone number(s) provided above. I understand this consent is not a condition to attend Wilson College Online or to purchase any other goods or services.
Thank you for your interest!
Redirecting you now...