A Look Inside the Modern Classroom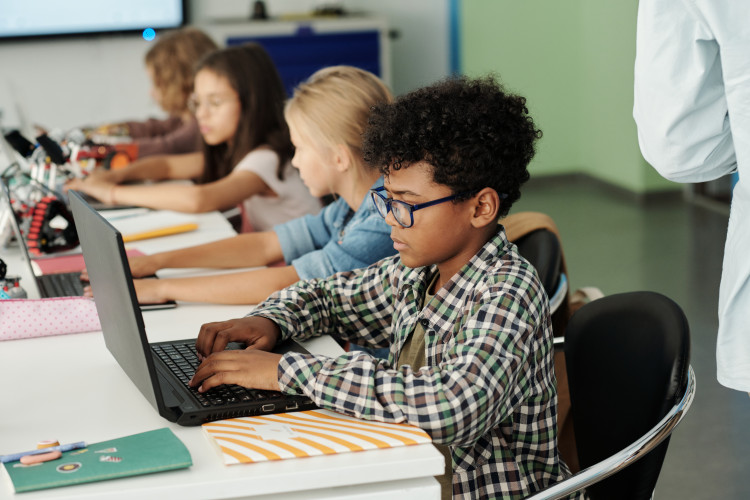 A Look Inside the Modern Classroom ¶
Students aren't the only people who learn inside a school. Administrators and teachers need to understand how their students think and choose methods that engage and support students. After a few years of students using distance learning, technology has become integral to their success, leading schools to incorporate new technology into their classrooms. The modern classroom includes online learning, self-paced lessons, and individualized lesson plans.
To learn more, check out the infographic below, created by Wilson College Online's education programs.

Education Statistics ¶
The modern classroom doesn't just include technology and teaching methodology. It's always important to understand student demographics and who educational changes affect. In December 2020, 71.5% of parents reported that their children's schools had switched to distance education using online resources.
Who Are These Students? ¶
The United States has about 49,935,000 students. About 32,261,000 students are in grades pre-K-8, and about 15,575,000 students are in grades 9-12. Different races and ethnicities make up different percentages of enrollment and graduation rates.
Racial Breakdown ¶
White

Enrollment: 44.8%
Graduation: 49.4%

Black

Enrollment: 14.9%
Graduation: 13.2%

Hispanic

Enrollment: 28.6%
Graduation: 26.5%

Asian/Pacific Islander

Enrollment: 5.9%
Graduation: 6.3%

American Indian/Alaska Native

Enrollment: 0.9%
Graduation: 0.8%

Two or more races

Enrollment: 4.9%
Graduation: 3.8%
What About Teachers? ¶
In 2019, the teacher-student ratio for all public schools was 1:15.9. For elementary schools, it was 1:15.8. For middle schools, it was 1:16.0. For secondary schools, it was 1:16.2. For the 2020-21 school year, the average public school teacher's salary was $65,090. In 2019, public schools employed 2,904,147 teachers, along with other staff:
Employment Breakdown ¶
Officials and Administrators: 68,815
Administrative Support Staff: 162,471
Instruction Coordinators: 76,171
Principals and Assistant Principals: 174,689
School Support Staff: 214,089
Instructional Aides: 761,198
Guidance Counselors: 108,313
Librarians: 29,283
The Modern Classroom ¶
For the past few years, educational technology has been advancing. From Quizlet to smartboards to online learning systems, technology can give both students and teachers a sense of autonomy, connection, and control over their assignments and education.
What We Learned From Distance Learning ¶
Distance learning showed educators that they can distill lessons to the critical parts and let students be more autonomous. Students felt more engaged with their learning when they could pace themselves. Distance learning made students reflect on how they learn. Teachers reorganized lessons to best use their time.
Incorporating Technology ¶
Between March 2020 and January 2022, the Education Week Research Center surveyed teachers, principals, and district leaders. It found that by the end of 2021, 60% of respondents said remote learning made them more willing to incorporate technology into the classroom. Congress approved $190 billion to help elementary and secondary schools. This included giving students school-issued computing devices and new devices for the classroom. A total of 61% of educators expect to spend more money on social-emotional learning software to provide support for students' and teachers' needs after several exhausting years. Virtual reality, videoconferencing, and educational software make it easier than ever for students to connect with others around the world. Teachers are using Zoom to invite guest speakers into their classrooms. Services like Empatico can help students see classrooms and projects from other countries. Online services provide templates for interactive lessons, fun quiz activities, and other collaborative projects.
Accessibility ¶
Technology is also being used to help students with higher needs. For example, text-to-speech technology helps nonverbal and minimally verbal students. These students benefit from technology that enhances their ability to communicate with their peers, teachers, and family. Similarly, students who prefer to listen to audio, have dyslexia, or struggle with reading can use text-to-speech technology to process lessons and information. The technology also helps students who may be blind or have trouble with small text or screens. Dictation programs are also being used to help students learn in the ways that best serve them. Students who struggle with fine motor skills or have trouble staying still long enough to write can dictate their assignments and notes. Students who are visually impaired can avoid screens that are hard to see through a combination of dictation and text-to-speech technology.
Modern Teaching Methods ¶
New teaching methods can help students learn at their own pace while mastering important concepts.
Blended Instruction ¶
The Modern Classrooms Project suggests using blended instruction. In blended instruction, teachers use informational videos and engaging visuals to replace one-way lectures. Guided notes, self-pacing, and embedded questions keep students focused on what they're learning. Students can return to these videos at their own pace or refer to their own notes.
Flipped Classroom ¶
Screencastify, which produces video creation software, reports that flipped classrooms result in better learning outcomes for students. Teachers record lectures that contain important information for students to watch at home and digest at their own pace. In the classroom, teachers provide guidance for activities, labs, and exercises. Teachers focus on higher-order thinking skills during active classroom time.
"May Do" Assignments ¶
Next Generation Learning Challenges introduces "may do" assignments. Once students finish their "must do" assignments (required material that meets state standards), they can work on extra assignments that dive deeper into the material. This allows teachers to provide one-on-one instruction for students who need help with must do material. May do assignments keep students engaged and interested in what they're learning.
Moving Forward ¶
Distance education has changed the way schools function, and that's reflected in the modern classroom. New technologies and methods are connecting teachers and students in new ways. Instead of lectures and traditional homework, students are able to work at their own pace and learn executive function skills as they master their classes.
Sources
Education Week, Pandemic Tech Tools That Are Here to Stay
The Modern Classroom Project, High-Quality Blended Instruction
National Center for Education Statistics, Table 203.10
National Center for Education Statistics, Table 203.60
National Center for Education Statistics, Table 208.10
National Center for Education Statistics, Table 211.50
National Center for Education Statistics, Table 213.60
National Center for Education Statistics, Table 214.20
National Center for Education Statistics, Table 215.15
National Center for Education Statistics, Table 218.80
National Center for Education Statistics, Table 219.30
Next Generation Learning, Transforming Classroom Structures to Increase Student Engagement
Screencastify, Teacher's Guide: 9 Tech Tools Flipped Classrooms Need in 2022
Teach Thought, Examples Of Technology In The Special Education Classroom
U.S. Bureau of Labor Statistics, Adult Basic and Secondary Education and ESL Teachers
Yahoo!Finance, Why Teaching Tech to Teachers Is More Important Than Ever