What Can You Do With an Early Childhood Education Degree?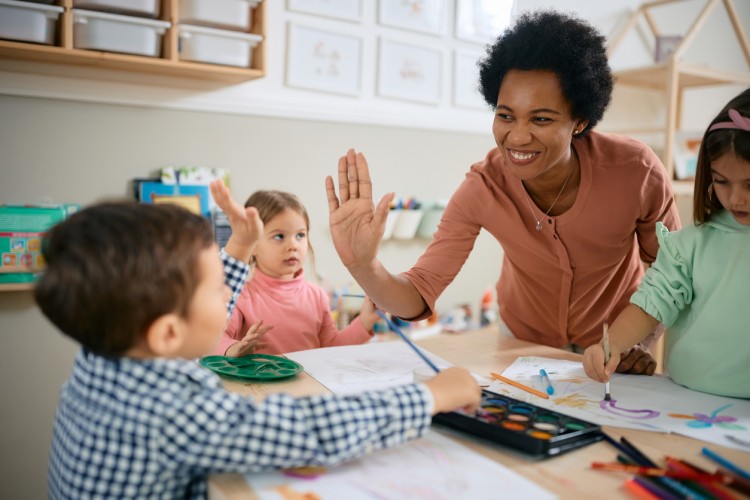 Children learn best in a supportive environment. An early childhood education degree readies graduates for a fulfilling career teaching pre-K through fourth grade children as they learn and grow socially and academically. An early childhood education degree offers opportunities for creativity in the classroom and helps new teachers positively influence the lives of young students.
What Is an Early Childhood Education Degree? ¶
An early childhood education degree program helps graduates develop core knowledge and practical classroom techniques for teaching and guiding young children. These graduates can provide foundational knowledge to children from pre-K through fourth grade, focusing on critical thinking, social-emotional skills, and the meeting of developmental milestones to prepare children for a successful academic future. Additionally, full understanding of state standards and assessment strategies is vital for a new early childhood education teacher's success, as is the ability to apply technology in the classroom. An early childhood education degree can help graduates develop classroom management skills, best teaching practices, and daily classroom routines through curricula covering such topics as educational psychology; creating an effective classroom culture; and child development, cognition, and learning.
What Jobs Can You Get With an Early Childhood Education Degree? ¶
Graduates with an early childhood education degree can pursue a wide range of careers. Teaching opportunities are plentiful, but the degree also readies directors and administrators in the education field to support young children's academic and social growth. Below are four typical job roles for graduates of an early childhood education degree program.
Elementary School Teacher ¶
Elementary school teachers teach young people math, history, English, and other academic subjects. They also work with students on improving interactions with others, developing social skills, and developing a good foundation for future studies. Additionally, elementary school teachers create lesson plans, grade assignments, evaluate and observe students, communicate with parents or guardians, and enforce classroom rules for correct behavior.
Elementary school teachers earned a median annual salary of $61,400 as of May 2021, according to the U.S. Bureau of Labor Statistics (BLS).
Kindergarten Teacher ¶
Teachers who work with kindergarten students give the youngest students a good start in school by teaching them rules, social cues, problem-solving skills, and abstract concepts. A kindergarten teacher also works with students on shapes, letters, colors, individual challenges, and understanding the world around them, so that students develop the skills they need to be successful as they move into elementary school.
Kindergarten teachers earned a median annual salary of $61,350 as of May 2021, according to the BLS.
Special Education Teacher ¶
Special education teachers work with students who have physical, mental, or emotional challenges that make learning more difficult. These teachers assess student skills, determine students' specific educational needs, and adjust lesson plans to meet those needs. Additionally, special education teachers create Individualized Education Programs (IEPs) for their students and keep these updated periodically to reflect growth, goals, and progress.
The BLS reports that special education teachers earned a median annual salary of $61,820 as of May 2021.
Education and Child Care Administrator ¶
Working as an education and child care administrator involves planning, coordinating, and directing both academic and nonacademic activities. This is typically a role at a preschool or day care facility, and it can also involve caring for children before and after school. Education and child care administrators work with parents and staff regarding policies and activities and offer assistance to students and teachers when problems arise. They also hire and train staff and ensure that the program operates smoothly. Education and child care administrators for preschools or day care facilities earned a median annual salary of $47,310 as of May 2021, according to the BLS.
Early Childhood Education Degree Skills ¶
In an early childhood education degree program, graduates can develop the practical skills to be effective teachers of young children. While each state requires its own specific standards for teacher education that involve many areas of study, some of the most important skills required of teachers are soft skills that improve the interaction between teachers and the children they instruct, such as the following:
Communication ¶
Learning to communicate clearly is one of the most important life skills to master, and good teachers help make that much easier. Teachers who are good communicators can encourage students to speak up, ask questions, and interact more easily with peers.
Creativity ¶
Teachers use their creativity in the classroom to make the subject matter interesting and keep students engaged in learning. If students aren't getting the stimulation and engagement they need while learning, it can be easy for them to become distracted. Students also need to be challenged to think outside the box and create art or other projects that allow them to engage in and appreciate the beauty and value of self-expression.
Decision-Making ¶
Decision-making is a very important part of working as an early childhood education teacher. The district sets the curriculum to follow, but each teacher will have an approach to the material and a chance to present it in creative ways.
In addition, classroom management in pre-K through fourth grade settings calls for informed and swift decision-making, especially in challenging areas, such as communicating complex subject matter to young children or resolving conflicts between students by teaching and modeling acceptable social behavior.
Interpersonal Skills ¶
Early childhood education teachers work with students, other teachers, administrators, parents, and the community. They need strong interpersonal skills to be effective teachers, including the following:
Enthusiasm. Teachers who are excited about their careers will encourage young students to be excited about learning.
Leadership. Taking control in the classroom and leading students in the right direction for learning needed skills is vital.
Empathy. Teachers need to show young students compassion and allow them to express their emotions while maintaining healthy boundaries.
Emotional intelligence. Understanding nonverbal cues and noticing concerns that a student might not talk about can help a teacher give needed support.
Discover How the Bachelor of Arts in Early Childhood Education Can Ready You for a Rewarding Career ¶
For anyone aspiring to a career educating pre-K through fourth grade students, a Bachelor of Arts (BA) in Early Childhood Education is an excellent choice. This degree provides a solid foundation for those who want to help young children thrive, and it presents graduates with the tools and techniques to foster a lifelong love of learning from the earliest days of a child's academic experience.
Wilson College Online's BA in Early Childhood Education program offers the opportunity for graduates to get involved in shaping the future. Step into the exciting world of teaching and learning by exploring what you can do with a degree in early childhood education.
Sources:
Himama, "20 Reasons Why Early Childhood Educators Are Essential"
Indeed, Early Childhood Studies Degree Skills: Definition and Examples
U.S. Bureau of Labor Statistics, Education and Childcare Administrators, Preschool and Daycare
U.S. Bureau of Labor Statistics, Elementary School Teachers, Except Special Education
U.S. Bureau of Labor Statistics, Kindergarten Teachers, Except Special Education U.S. Bureau of Labor Statistics, Special Education Teachers