Is a Finance Degree Worth It?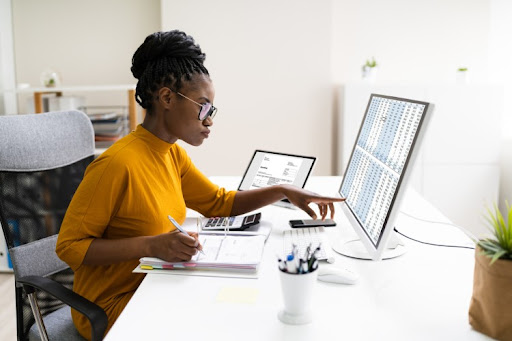 Is a Finance Degree Worth It? ¶
Employers will have nearly a million job openings available for finance and business professionals each year through 2031, according to data from the U.S. Bureau of Labor Statistics (BLS). Students who enjoy numbers, money management, and data analysis may be well-served by pursuing a degree in finance. An accredited finance degree program can help them qualify for one of these positions.
Overall, a finance degree is worth it for many aspiring professionals. According to the BLS, careers in business and finance can pay above-average salaries and are projected to have above-average growth over the next several years.
What You Will Learn in a Finance Degree Program ¶
Because the curriculum of a finance degree program is so wide-ranging, graduates can compete for many different roles in financial, business, and government sectors. Subjects students can expect to study include:
Accounting
Management
International business
Economics
Corporate finance
Investments
International finance
Statistics
Business ethics
Public policy
Many programs require students to complete foundational courses in public speaking or communication, composition, and mathematics.
Are the Benefits of Earning a Finance Degree Worth It? ¶
Students who plan to study finance have a lot to gain, suggesting that a finance degree is worth pursuing because it can advance aspiring professionals' goals. In terms of employers, earnings, and job stability, earning a finance degree has several advantages.
Employer Variety ¶
Because finance is integral to organizations in nearly every industry, a finance degree can help open doors to opportunities with many different employers. Some of the organizations that seek professionals with strong skills in finance include:
Banks
Private businesses
Accounting firms
Government agencies
Brokerage and investment firms
Insurance agencies
Some graduates of finance programs also become private consultants, working for multiple organizations rather than a single employer.
Skill Development ¶
The curriculums of most finance degree programs help students develop highly desirable skills, including data analysis, risk management, and investment strategies. According to the National Association of Colleges and Employers (NACE), employers list analytical/quantitative skills as among the most important attributes they look for in potential employees. Some programs also serve as strong preparation for professional certifications, such as the Certified Financial Planner (CFP) certification. Earning a certification can help broaden the pool of potential employers and improve career satisfaction, according to the CFP Board.
Job Security ¶
Job security is another factor that makes a finance degree well worth it. Finance professionals enjoy a high level of job security, with hundreds of thousands of positions expected to become available in the coming years. The BLS projects that many areas of employment related to finance will have above-average growth. For instance, financial managers have a projected growth rate of 17%, and personal financial advisors are projected to grow by 15% between 2021 and 2031.
Likewise, businesses are motivated to keep finance professionals on staff for the long term. A 2022 study from Deloitte indicates that the majority of public organizations report that they are struggling to recruit and retain talented finance professionals. This suggests that employers will continue to seek highly qualified candidates, such as those with a finance degree, for the foreseeable future.
Career Advancement ¶
Finance degree holders who join a company in an entry-level position often have ample opportunities to advance their careers. For example, stock brokers may move up from junior to senior brokers, perhaps eventually becoming managers within their organizations. Graduates of these programs may also begin working at smaller firms, credit unions, or banks and move up to larger corporations with time and experience.
What Can You Do With a Finance Degree? ¶
A Bachelor of Arts in Finance offers the knowledge and skills necessary for a number of promising careers. Many of these employment areas show strong salary potential and opportunities for growth.
Personal Finance Advisor ¶
Personal finance advisors offer clients guidance on various aspects of finance, including mortgages, taxes, retirement, and investments. They analyze clients' current financial circumstances, needs, and goals so they can offer sound advice.
As of May 2021, personal finance advisors earned a median annual salary of $94,170, according to the BLS.
Credit Analyst ¶
Many credit analysts work for banks or investment firms and help determine the level of risk associated with making a loan or extending a line of credit. Professionals in these roles conduct extensive data analysis, prepare reports, and make recommendations based on evidence. In 2021, the median salary for a credit analyst was $77,440 per year, according to data from the BLS.
Loan Officer ¶
Loan officers are responsible for an important process known as underwriting, which involves assessing loan applications and deciding whether to loan funds to businesses and individuals. Their day-to-day tasks include reviewing financial documents, interviewing applicants, and reviewing loan agreements.
Loan officers earn a median annual salary of $63,380, according to 2021 data from the BLS.
Securities, Commodities, and Financial Services Sales Agents ¶
Investment bankers and stock brokers fall under the category of securities, commodities, and financial services sales agents. Employees in these areas recruit new clients, buy and sell securities and commodities, and monitor financial markets.
In 2021, the annual median salary for a broker or banker of this kind was $62,910, as reported by the BLS.
Financial Manager ¶
Financial managers help ensure the long-term viability of an organization by monitoring its financial status, creating reports and forecasts, and supervising employees. These managers also seek ways to reduce costs and maximize profits.
Because their roles are integral to business operations, financial managers typically earn salaries that are much higher than the average for all occupations.
As of May 2021, the median salary for a financial manager was $131,710 annually, compared to the median salary for all workers, which was $45,760, according to the BLS.
Explore Exciting New Careers With a Finance Degree ¶
For many professionals, a bachelor's degree in finance is worth it because it is the starting point for a successful and lifelong career. By analyzing data, studying financial markets, and assessing risks, finance professionals help individuals and organizations stay within their budgets and earn competitive salaries.
Wilson College Online's Bachelor of Arts in Finance program gives students the chance to develop the skills and knowledge to advance in the field. Take the first step on your path toward a finance career by exploring how you can earn your B.A. in Finance.
Sources:
Certified Financial Planner Board, Why Get Certified: For Students
Deloitte's Center for Controllership, "A New Working Relationship: Aligning Organizations with the Workforce of the Future"
National Association of Colleges and Employers, "Problem-Solving Skills Top Attributes Employers Seek on Resumes"
U.S. Bureau of Labor Statistics, Business and Financial Occupations
U.S. Bureau of Labor Statistics, Credit Analysts
U.S. Bureau of Labor Statistics, Financial Managers
U.S. Bureau of Labor Statistics, Loan Officers
U.S. Bureau of Labor Statistics, Personal Financial Advisors
U.S. Bureau of Labor Statistics, Securities, Commodities, and Financial Services Sales Agents