MSN in Education: Curriculum and Career Opportunities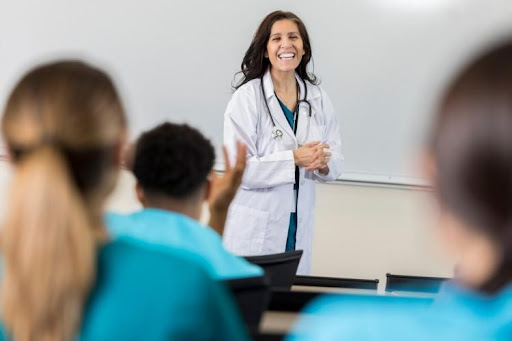 MSN in Education: Curriculum and Career Opportunities ¶
In the midst of the ongoing nursing educator shortage, there has never been a better time to pursue a Master of Science in Nursing (MSN) with a concentration in education. A 2022 report by the American Association of Colleges of Nursing (AACN) found that nursing schools in the United States turned away more than 90,000 qualified nursing applicants because of faculty shortages. Students with an interest in both teaching and nursing have a prime opportunity to become part of a high-demand and rewarding field by enrolling in an MSN degree with a focus on education.
What You Will Learn in an MSN in Education Program ¶
The curriculum of an MSN in education degree includes not only material focused on advanced nursing practices, but also courses centered on effective teaching strategies. Some of the subjects students can expect to engage in include:
Ethics and healthcare regulations
Research methodologies
Pharmacology
Pathophysiology
Nursing education and curriculum
Program evaluation and outcomes
With this combination of topics, graduates of MSN in education programs can be well-prepared to provide not only high-quality patient care, but also essential training to other nurses.
Benefits of Earning an MSN in Education ¶
Whether a nurse has been active in the workforce for several years or is new to the field, there are many advantages to earning an education-focused MSN. Completing this type of degree program can open doors to new employers and experiences.
Job Opportunities ¶
Students who earn an MSN in education have an expanded pool of job opportunities to pursue. Because they have an academic background in not only nursing but also in teaching, graduates can qualify for positions as direct healthcare providers or health educators. This can also help reduce professional burnout, as practicing nurses can more easily shift to teaching when they need a change of pace.
Leadership Positions ¶
After finishing their degree programs, graduates with a specialization in education are generally better qualified for leadership roles. An advanced degree offers a competitive advantage when applying for jobs as supervisors, managers, and directors.
Earning Potential ¶
Professionals in most fields earn more when they hold advanced degrees, and this holds true in nursing. Nurses with an Associate Degree of Nursing (ADN) earned an annual median salary of approximately $73,000 in December 2022, while those with a Bachelor of Science in Nursing (BSN) made around $89,000 a year. This is according to the compensation website Payscale. In contrast, the median annual salary for graduates of an MSN program was $98,000.
Job Growth ¶
The demand for nursing educators is extremely high. As of October 2022 nursing schools and programs had a total of 2,166 full-time nursing faculty vacancies available, according to the AACN. Likewise, job growth for health education specialists is also projected to be higher than average at 8%, according to the U.S. Bureau of Labor Statistics (BLS). By earning an MSN with an education concentration, students can capitalize on this expanding job market.
Specialization ¶
While completing an MSN in education program, students develop a more advanced and focused skill set. Students who have an interest in a particular area of nursing and choose to specialize in it are much more likely to have opportunities to conduct research and expand their knowledge when they earn a master's degree.
What Can You Do with an MSN in Education Degree? ¶
Professionals with a passion for both education and nursing can embark on exciting new careers with an MSN in education. Two-year colleges, universities, healthcare facilities, and community groups all seek well-qualified nursing professionals who can share their knowledge with up-and-coming members of the field.
Nurse Educator ¶
Many community and technical colleges and nursing schools employ experienced educators to train future LPNs and RNs. Nurse educators develop lesson plans, student assessments and assignments, evaluate student progress, and provide training in key skills. The median annual salary for career and technical education teachers, including nurse educators, was $61,160 as of 2021, according to data from the BLS.
Professor ¶
Professors in nursing also teach courses in their discipline and primarily work at four-year colleges and universities. In addition to teaching, many nursing professors also engage in research and publish in academic journals. In 2021, postsecondary nursing teachers had median earnings of $77,440 per year, according to the BLS.
Nurse Health Coach ¶
Patients often need guidance and training to improve their health outcomes by applying lifestyle changes like exercise and nutrition. Nurse health coaches educate and coach patients to help them reach their health goals. The median annual salary for health education specialists and community health workers was $48,860 in 2021, as reported by the BLS.
Clinical Instructor ¶
Clinical nurse instructors are responsible for educating nurses employed by healthcare facilities and ensuring they provide high-quality care for patients. They provide training in practical skills rather than theoretical methods and concepts. As of November 2022, the median salary for a clinical nursing instructor was approximately $65,200, according to Payscale.
Program Director ¶
Nurses with strengths in leadership may want to pursue positions as program directors or social and community service managers. These professionals work with the public to develop and oversee critical health programs and initiatives. In 2021, social and community service managers earned a median annual salary of $74,000, according to the BLS.
Discover How an MSN in Education Can Enhance Your Nursing Career ¶
With training in advanced nursing practices as well as the principles of education, an MSN in education can create new career paths for RNs who want to teach the next generation of nurses. The RN to MSN program at Wilson College Online offers an education track that prepares nursing professionals for positions in the world of academics.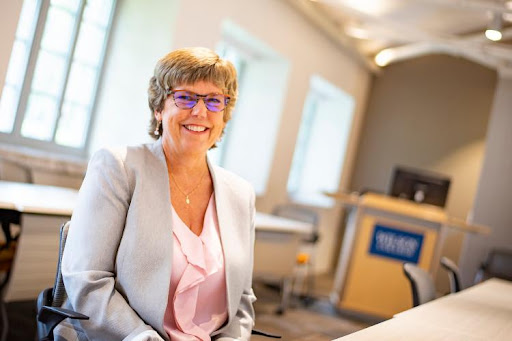 Julie Beck, professor of nursing at Wilson College.
At Wilson College Online, you'll study with professors such as Julie Beck, D.Ed. Dr. Beck reports: "An advanced degree in nursing at Wilson College requires just 36 credits. The program is all online and is designed with the working adult in mind. You'll have two choices—either a leadership and administration track, or an education track. For students interested in pursuing a future practice degree, completion of our MSN degree will allow the student to move forward into a nurse practitioner program as a post-master's student. And, we have matriculation agreements with several schools to make that pathway a smooth one."
Shift the trajectory of your career in exciting new directions by exploring how to earn your MSN in education today.
Sources:
American Association of Colleges of Nursing, "Nursing Faculty Shortage"
American Association of Colleges of Nursing, "Special Survey on Vacant Faculty Positions for Academic Year 2022-2023"
Payscale, Associate Degree Nursing (ADN) Degree
Payscale, Average Nursing Instructor Salary
Payscale, Bachelor of Science in Nursing (BSN) Degree
Payscale, Master of Science in Nursing (MSN) Degree
U.S. Bureau of Labor Statistics, Career and Technical Education Teachers
U.S. Bureau of Labor Statistics, Health Education Specialists and Community Health Workers
U.S. Bureau of Labor Statistics, Nurse Anesthetists, Nurse Midwives, and Nurse Practitioners
U.S. Bureau of Labor Statistics, Nursing Instructors and Teachers, Postsecondary
U.S. Bureau of Labor Statistics, Social and Community Service Managers