What Careers Can You Get With a Criminal Justice Degree?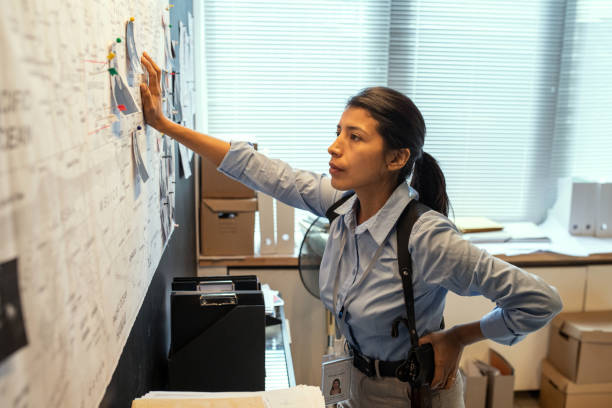 What Careers Can You Get With a Criminal Justice Degree? ¶
The criminal justice system is the backbone of a lawful society. Our nation's government institutions uphold it by interpreting and enforcing the law, delivering justice to criminals and victims, working to prevent crime and rehabilitate criminals, or managing and protecting our natural and cultural resources. Careers path options abound for individuals with a criminal justice degree, including roles in our nation's:
Court systems
Police departments
Prison systems
Public lands
For people who feel called to further the mission of our nation's criminal justice system, exploring a degree in criminal justice can be the first step to an exciting and meaningful career.
Criminal Justice Career Roles ¶
From correction and rehabilitation to supporting prosecutors and attorneys to the informed analysis of criminal motives and methods, graduates of criminal justice degree programs work in a wide range of career roles. While some roles may call for additional licensing and hands-on training, typical roles in criminal justice include the following:
Crime prevention specialist
Police officer
Homicide detective
Criminal profiler
Correctional officer
Crime scene investigator
Security analyst
Careers You Can Get With a Criminal Justice Degree ¶
An education in criminal justice readies graduates for a broad range of career paths. A criminal justice degree program typically includes a fundamental grounding in criminological research methods and theory and the psychological motivations of criminal behavior. In addition, the degree lays the foundation for graduates to embark on their chosen criminal justice career path with a solid grasp of the court, corrections, and law enforcement systems.
Below are some of the diverse careers you can get with a criminal justice degree.
Legal Assistant ¶
A legal assistant or paralegal role is a great fit for those who seek to work in law firms, government agencies, or corporate legal departments. Legal assistants help prepare for trials and cases by researching information and preparing court documents to support lawyers, firms, and legal organizations.
Those working as paralegals or legal assistants earned a median annual salary of $56,230 in 2021, according to the U.S. Bureau of Labor Statistics (BLS).
The demand is growing for legal assistants. From 2021 to 2031, the BLS projects a 14% increase in jobs in this field.
National Park Service Ranger ¶
For individuals motivated to protect and manage our public lands and preserve our natural and cultural heritage, becoming a National Park Service ranger is an appealing career path. The United States Office of Personnel Management states that an educational background in law enforcement or police science—topics typically covered in a criminal justice degree program—qualifies candidates to apply for this role, adding that experience in investigative work or the enforcement of rules and laws is also a plus.
The median annual salary for National Park Service rangers was around $40,000, as of November 2022, according to Payscale. The National Park Service reports a high demand for job candidates in this field.
Security Analyst ¶
Security analysts carry out security measures designed to protect the computers and network systems of the organizations they work for, such as corporate organizations, government agencies, and schools.
Security analysts are in significant demand, with a projected job growth rate of 35% from 2021 to 2031, according to the BLS. The median annual salary for security analysts was $102,600 in 2021.
Police Officer ¶
Working as a police officer means gathering information and evidence from crime scenes; talking to crime victims, witnesses, and others involved in a crime scene; providing insight into events; and helping protect the lives and property of citizens. Police officers take on challenging and sometimes dangerous responsibilities with the goal of safeguarding others.
The median annual salary for police officers and detectives was $66,020 in 2021, according to the BLS. The overall job growth of police officers and detectives is projected at 3% from 2021 to 2031, according to the BLS. An average of around 68,500 openings for police and detectives is projected each year for the same time period over the same time period, according to the BLS.
Criminal Investigator ¶
A criminal investigator searches for the events that led up to a crime and analyzes how it was carried out. Criminal investigators work in a range of sectors, including financial, legal, and personal matters, helping to uncover the truth about events or dive into details of criminal evidence or motives to come to reasonable conclusions. They often spend the majority of their time working in the field: collecting evidence, interviewing witnesses, serving warrants, or observing suspects.
Criminal investigators earned a median annual salary of $59,380 in 2021, according to the BLS. An increase of about 6% is expected in this field from 2021 to 2031.
Criminal Justice Degree Skills ¶
Earning a criminal justice degree can mean exploring a wide range of new skills. Below are core skills that students typically develop in this degree path.
Critical Thinking ¶
Being able to draw rational conclusions from information or dive deep into evidence to come up with solutions to problematic areas of criminal investigation requires critical thinking skills.
Those who work in criminal justice careers need to apply critical thinking skills to real-world issues, such as why or how a crime might've been committed or how a law enforcement issue might be improved to help prevent future criminal incidents.
Problem-Solving Skills ¶
Often, those who work in criminal justice fields need to be able to solve problems quickly and effectively, whether they're defusing intense situations or ferreting out information.
Communication Skills ¶
Those who work in criminal justice roles typically need to communicate with many other people, including the public, supervisors, and court personnel. Good written and oral communication are important skills in criminal justice roles, from interviewing witnesses and crime victims to interacting with other law enforcement officers or investigators.
Discover How a Bachelor of Arts in Criminal Justice Can Change Your Future ¶
Start your journey toward transforming your community by supporting and improving the criminal justice system in an exciting role as an investigator, advocate, law enforcement officer, or any of a wide array of other roles. Discover how the Bachelor of Arts in Criminal Justice degree program at Wilson College Online can set you on the path toward improving our nation's future by safeguarding communities, understanding and preventing crime, and helping others in need of protection and justice.
Sources
ONet OnLine, Intelligence Analysts
Payscale, Average Park Ranger Salary
U.S. Bureau of Labor Statistics, Information Security Analysts
U.S. Bureau of Labor Statistics, Paralegals and Legal Assistants
U.S. Bureau of Labor Statistics, Police and Detectives
U.S. Bureau of Labor Statistics, Private Detectives and Investigators