Pros and Cons of Educational Apps for Toddlers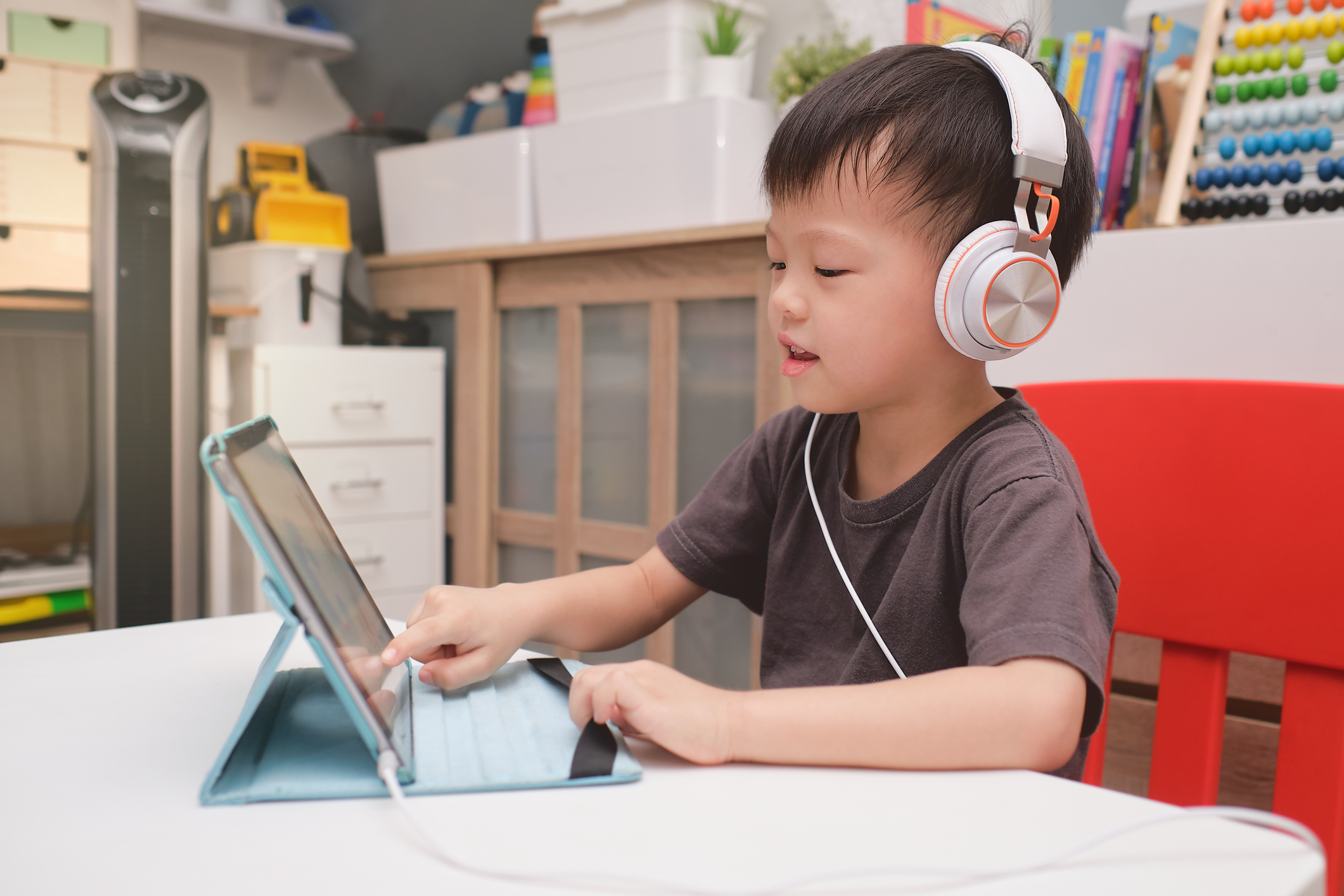 Early childhood education establishes the groundwork for a child's future success. According to the United Nations Educational, Scientific and Cultural Organization (UNESCO), from infancy to approximately age eight, children experience significant brain development that will affect their ability to function as adults. During this crucial time, education can form the foundation for children to realize their potential as adults, and maximize their ability to fully participate in and contribute to society.
Children's education takes many forms, and as technology becomes a larger presence in everyday life, educational apps for toddlers are offering new options for educating kids. But when choosing these apps, it's important to be discerning and ensure they provide the best opportunities for learning. Parents and educators can benefit from learning about the advantages and drawbacks of apps that educate young children and what those apps can do.
What Are Educational Apps? ¶
Educational apps are a type of downloadable software that can aid in learning. Individual educational apps can be downloaded to devices such as smartphones and tablets, which enables users to access them from any location at any time. 
Educational apps for kids have a wide variety of features, but a study published in the Journal of Children and Media suggested these apps can be particularly effective when they encompass what are known as the four pillars of learning.
Active learning
Engagement in the process of learning
Learning that is meaningful
Social interaction
Educational Apps: Early History ¶
The evolution of educational apps for kids parallels the evolution of computing itself. Examples of early computer-based educational games include:
The Sumerian Game. Introduced in 1968 and considered the first educational video game, the Sumerian Game offered kids the opportunity to learn about ancient history through an interactive experience. This experience involved using an IBM mainframe computer that was synchronized with a cassette tape.
The Oregon Trail. This is a well-known early computer game for students to learn about pioneers in the 1800s. The Oregon Trail came to classrooms that were equipped with computing labs in 1971.
The introduction of a host of educational computer games coincided with the rise of home computers in the 1980s. Examples of those games include:
Math Blaster. A computer game that became available in 1983 and focused on developing kids' math skills
Reader Rabbit. A computer game that kids began playing 1984 to enhance their ability to read and spell
Where in the World is Carmen Sandiego? A computer game that debuted in 1985 with the goal of enhancing children's knowledge of geography
As access to computers and the internet continued to increase in the 1990s and early 2000s, the variety and availability of educational apps for children continued to expand with offerings such as:
The Magic School Bus. A video game series that covers an array of educational topics such as science, nature, and geology
The Incredible Machine. A computer game that allowed children to build skills in areas such as engineering and logic by constructing elaborate contraptions to perform specific functions
Minecraft Education Edition. A sandbox building game that helped kids strengthen their skills in areas such as problem solving and teamwork
How Are Educational Apps Used Today? ¶
Whether individuals are parents, childcare providers, or aspiring kindergarten teachers, it's important for them to know the variety of ways to use educational apps geared toward young children. For example, the adults in children's lives can use educational apps to:
Supplement traditional learning with game-like activities
Provide children with feedback and rewards
Give children a way to practice building foundational skills
Promote children's ability to learn independently
Strengthen children's digital competence
Address children's negative attitudes toward particular subjects such as math
Teach children to learn using different forms of communication (for example, through audio, images, text, and video)
Types of Educational Apps ¶
Educational apps for toddlers can focus on a variety of topics. The examples below demonstrate the wide range of subjects these apps can cover.
Language and Literacy ¶
Apps designed to develop toddlers' language and literacy offer kids the opportunity to develop their skills in phonics, vocabulary, reading comprehension, spelling, and writing. Some of these apps also are available in languages other than English. Language and literacy apps have many purposes, such as teaching kids the alphabet, helping kids form sentences, and teaching kids to pronounce words. 
Science and Mathematics ¶
Preschoolers can learn about science and engineering by using apps that offer educational content on topics such as the weather, nature, and mechanics. Similarly, educational apps can begin toddlers' mathematics education by introducing them to topics such as numbers, mathematical concepts, and counting.
The Arts and Creativity ¶
Toddlers can enhance their artistic and creative abilities through educational apps that enable them to do things such as use shapes and colors to create works of art, learn about sound/audio creation, and acquire skills in drawing. These apps can also enable toddlers to begin learning about culture and music.
Problem Solving ¶
Apps that enable toddlers to complete puzzles, find hidden pictures, and match and sort objects can allow children to strengthen their problem-solving skills. Other problem-solving apps provide toddlers the opportunity to identify patterns, improve their ability to concentrate, use tools, and complete challenges.
Social and Emotional Skills ¶
Educational apps for toddlers can also help children develop their social and emotional skills. For example, toddlers can use educational apps to recognize their feelings and emotions, learn how to exercise self-control, practice mindfulness, and become more self-aware.
Children with Special Needs ¶
A number of educational apps are specifically geared toward young children with special needs. These apps can help children who have autism spectrum disorder, Down syndrome, or attention-deficit/hyperactivity disorder.
What Are the Pros and Cons of Educational App? ¶
It's important to know what makes learning apps for toddlers helpful, as well as the potential risks associated with using these apps. Some examples of specific pros and cons of educational apps are outlined below.
Educational Apps for Toddlers: Pros ¶
Educational apps have the potential to teach toddlers a great deal.
Apps can be valuable in advancing STEM education. Apps have been particularly effective in teaching young children concepts and skills in science, technology, engineering, and math (STEM).
Kids can sometimes learn more through interactive apps. Specifically, learning from apps that are interactive can exceed what can be learned from traditional, more passive methods of education.
Interactive apps offer side benefits. When kids are working with interactive educational apps to learn new concepts, they are also improving their reaction time, motor skills, and hand-eye coordination.
Apps are a space for children to practice their skills. For example, educational apps enable children to practice processing information and identifying ways to interact in the world.
Apps provide an opportunity to work through challenges. Children can gain experience and knowledge about how to work through their frustrations by using educational apps.
Many educational apps for kids are free. For instance, organizations such as PSB and Duolingo offer certain educational apps for kids at no cost.
Educational Apps for Toddlers: Cons ¶
The adults in toddlers' lives need to be aware of the potential drawbacks of using educational apps. For example:
Skill transfer may not always happen. Younger kids don't always have the ability to transfer what they learn from educational apps to the real world.
Educational apps may require skills that exceed a child's abilities. The interactive nature of some apps can impede learning because the interaction required may exceed a young child's abilities.
The quality of educational apps can vary. Not all apps categorized as educational truly are educational in nature, and they may include content that is not relevant to learning.
Privacy issues could be a concern with some educational apps. As with any app, privacy concerns and the collection of personal data are elements that adults need to monitor when children use educational apps.
Using educational apps could result in excessive screen time. Too much screen time for kids can negatively affect other aspects of their lives, such as sleep and physical activity. The American Academy of Pediatrics recommends very limited screen time for children younger than age two, and a limit of one hour of screen time per day for kids ages two to five.
Certain content in educational apps could impair learning. For example, educational apps can contain advertising, visual and audio effects, and rewards that distract kids from learning.
What Are the Benefits of Educational Apps? ¶
The design features of educational apps for young children can elevate their potential effectiveness, which can translate into a host of benefits. Examples of the benefits of educational apps are highlighted below.
Educational Apps Can Offer Multi-Sensory Lessons ¶
Educational apps can offer multi-sensory (or multi-modal) lessons that are geared toward different  learning styles. For example, apps can focus on learning through visual, auditory, or tactile exercises. They also can concentrate on kinesthetic learning (learning through physical activity) and learning through interpersonal interaction. 
Research has shown apps that offer multi-modal learning can boost kids' interest in learning and improve their ability to retain information.  
Educational Apps Provide Fun and Engaging Learning Opportunities ¶
Educational apps for toddlers that are fun and engaging can increase the opportunity for learning. When an app is entertaining and provides a wide array of activities, toddlers are more likely to remain interested and keep using the app. Apps with interactive elements, animation, songs, and compelling visuals can be both educational and enjoyable for young children.
The Customizable Learning Experiences of Educational Apps Can Be Advantageous ¶
Many educational apps for kids offer customization that can align with a particular child's characteristics. For example, some educational apps allow adults to adjust settings for different levels of difficulty, the types of rewards that apps can offer to kids, and the specific languages in which apps can communicate.
Toddlers Can Experience Interactive and Immersive Learning When Using Educational Apps ¶
The features of educational apps can provide toddlers with learning experiences that are both interactive and immersive. For example, high-quality graphics and audio can encourage kids to fully participate in learning exercises that enable them to feel as though they are taking part in different adventures. Immersive learning that enables kids to explore virtual environments can enhance children's understanding of a variety of concepts.
Educational Apps Can Boost Toddlers' Motivation and Confidence          ¶
When toddlers enjoy using educational apps, it can elevate their motivation to learn. Achieving success in the tasks associated with an educational app can also build children's self-confidence. Children can then draw on that self-confidence to operate more successfully in other types of learning environments.
Toddlers Can Use Education Apps for Self-Paced Learning ¶
The ability of educational apps to offer toddlers self-paced learning is a significant benefit. When children can learn at their own pace, they don't have to manage the pressure associated with adhering to a set schedule. 
Self-paced learning also enables kids to master topics before moving on to learn new concepts. Additionally, kids have a better opportunity to master the fundamental aspects of a particular topic before learning more complex aspects of that topic.
Educational Apps Encourage Active Learning and Exploration ¶
When educational apps for kids offer active learning, kids are able to participate in developing responses to challenges, rather than simply reacting to events based on a pre-established set of responses. Similarly, when educational apps are designed in a flexible manner and allow for open-ended responses, kids have the opportunity to experience exploratory learning that is not subject to a strict evaluation process.
10 Educational Apps for Toddlers ¶
Compiling a list of educational apps for toddlers is a subjective exercise, and what is best for an individual toddler could depend on that particular toddler's needs. But a study published in the Journal of Children and Media in 2021 evaluated 100 educational apps on how well they satisfied the four pillars of learning. In no particular order, examples of apps that received some of the highest ratings from that study are highlighted below.
1. LEGO DUPLO Town ¶
Using this app, children construct houses while learning basic skills such as stacking and building. In the process, they gain valuable experience with cause and effect. This app also enables kids to interact with a range of characters, which can help strengthen their social skills.
2. Daniel Tiger's Stop & Go Potty ¶
When playing with this app, kids get to practice stopping their play when they need to go to the bathroom. They also learn to conduct bathroom routines such as washing and drying their hands. Kids also have the opportunity to stack rings and control a water wall. In addition, this app provides parents with helpful information from Fred Rogers on toilet training their children.
3. Zoombinis ¶
Zoombinis offers kids the opportunity to complete increasingly challenging puzzles as they work to help a diverse collection of blue creatures move to a new home. To solve the puzzles, kids need to use their problem-solving skills, apply logic, analyze data, and identify patterns.
4. Noggin Preschool ¶
The Noggin Preschool subscription service includes a collection of videos, games, and books that help children build skills in areas such as math, social and emotional skills, wellness, and reading. The content features well-known characters such as members of the Paw Patrol, Dora the Explorer, and Peppa Pig.
5. My Very Hungry Caterpillar Augmented Reality (AR) ¶
In this educational app for children, kids get to practice their nurturing skills by taking care of the most famous caterpillar in children's literature. Kids get to watch an egg hatch, feed the caterpillar, put the caterpillar to bed, and see the caterpillar transform into a butterfly, all of which can help them develop an interest in nature.
6. Sago Mini Friends ¶
Children have the opportunity to interact with their Sago Mini friends in this interactive app. Kids can help their friends participate in activities such as playing dress-up or fixing a birdhouse. The activities and virtual playtime the app offers help establish skills in areas such as empathy, creativity, and sharing. 
7. BRIO World–Railway ¶
Kids get to develop skills in areas such as creativity and problem solving by building a railway with the BRIO World–Railway app. After putting down train tracks and arranging related figures and train stations, children can travel on their trains to accomplish an array of different missions. 
8. My Food–Nutrition for Kids ¶
This app offers kids a wealth of knowledge about the origins of their food, nutrition, and human digestion. Kids also can practice growing their own food in a virtual environment and putting together well-balanced meals.
9. Toca Life–Neighborhood ¶
Exploring a new neighborhood and all it has to offer is the primary focus of Toca Life–Neighborhood. Children get to move characters around the neighborhood and have them perform multiple activities. Kids also can do things such as feed characters and change their clothes, as well as rearrange objects throughout the neighborhood. 
10. Toca Life–School ¶
Toca Life–School lets kids direct the action at school, enabling them to create and play out their own school-related stories. They can do things like go to recess on the playground, eat in the school cafeteria, conduct science experiments, or assemble musical instruments to create a school music performance.
Expanding Learning Opportunities for Toddlers ¶
By carefully selecting educational apps for toddlers, the adults in children's lives can help their little ones learn in a stimulating environment that encourages the development of a multitude of skills. Educators who use apps in schools also can harness the power of technology to improve learning outcomes. 
Individuals who have an interest in early childhood education would do well to explore the Wilson College Online Bachelor of Arts in Early Childhood Education degree program to learn how it can help them achieve their career goals. Offering aspiring educators knowledge of research-backed classroom practices and teaching strategies, the program can help set the stage for a rewarding career. 
Start working toward your career goals in early childhood education today.
Recommended Readings
Master of Teaching vs. Master of Education: What's the Difference?
Tips for Building an Engaging Special Education Classroom
What Can You Do With an Early Childhood Education Degree?
Sources:
American Academy of Pediatrics, "Beyond Screen Time: Help Your Kids Build Healthy Media Use Habits"
Apiko, "39 Best Educational Apps for Kids to Keep Learning"
Autism Parenting Magazine, "Best Autism Apps for Kids on iPad, iPhone and Android in 2023"
Best Apps for Kids, Best Puzzle and Problem-Solving Apps for Kids (Updated for 2022)
Common Sense Media, Apps That Teach Kids About Numbers
Common Sense Media, Emotional Intelligence Apps and Games
Common Sense Media, "A Majority of Apps Are About to Come Clean and Say They've Been Selling Your Data All Along"
Computers and Education Open, "Uses and Gratifications of Educational Apps: A Study During COVID-19 Pandemic"
Designs for Learning, "Playful and Meaningful Learning of Programming. What Does It Take to Integrate an App-Based Game Promoting Digital Mathematics into Early Childhood Education?"
Education and Information Technologies, "Classification and Evaluation of Educational Apps for Early Childhood: Security Matters"
Filimundus, BRIO World - Railway
Frontiers in Psychology, "Exploring the Role of Learning Through Play in Promoting Multimodal Learning Among Children: A Pilot Study in Chinese First-Tier Cities"
The Gamer, "Educational '90s PC Games That We Want to See Again"
Goally, "3 Apps for 2 Year Olds"
Goally, "Learning Apps for Kids"
International Journal of Child-Computer Interaction, "Using Multimodal Educational Apps to Increase the Vocabulary of Children with and without Reading Difficulties"
Journal of Children and Media, "How Educational Are 'Educational' Apps For Young Children? App Store Content Analysis Using the Four Pillars of Learning Framework"
KQED, "Can Young Children Learn from Educational Apps?"
Make Use Of, "The Top 10 Apps and Websites for Children's Nutrition"
Noggin, Little Kids, Big Learning
Paper, Game-Based Learning in Education: A Quick History
Parents Reality, "Nurturing Young Genius: Unveiling the Best Learning Apps for Kids Today"
Patrick J. McGovern Foundation, "April 3, 1968: Students Rule Ancient Cities in Early Educational Video Games"
PBS, "14 PBS Kids Games for Learning Science and Engineering"
PBS Kids, Daniel Tiger's Stop & Go Potty
Phys.org, "Video Games and Education: Five Steps for Choosing the Perfect Classroom Game"
Pittsburgh Children's Museum, Benefits of Technology for Early Childhood Learning
Reading Rockets, Apps for Literacy and Learning
RoboticsBiz, "How Does App-Based Learning Revolutionize Education"
Sago Sago Toys, Sago Mini Friends
StoryToys, My Very Hungry Caterpillar AR
The Tech Edvocate, "Best Apps for Toddlers: Top Picks for Fun and Education"
Toca Boca, Toca Life - Neighborhood
UNESCO, "Why Early Childhood Care and Education Matters"