Occupational Therapy Assistant: Salary and Job Description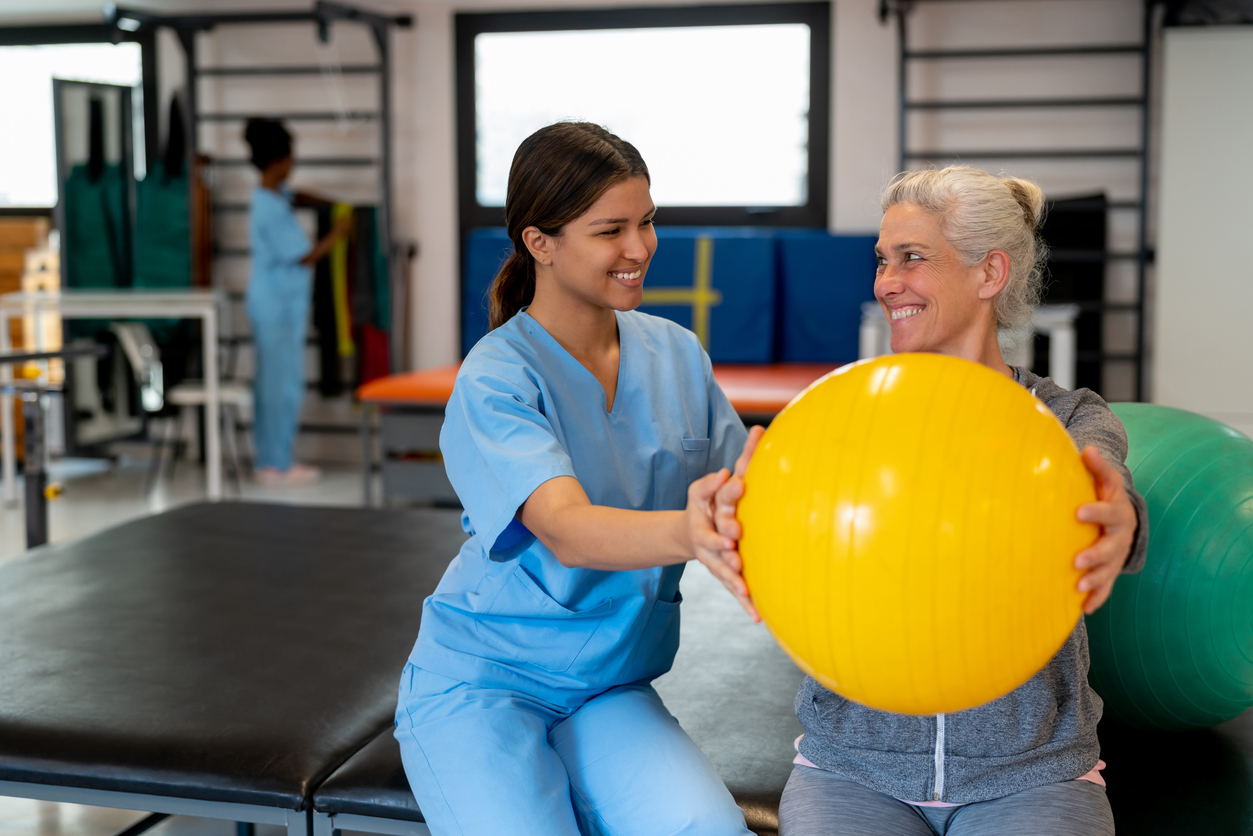 Occupational Therapy Assistant: Salary and Job Description ¶
Occupational therapy assistants play a pivotal role in helping people live more independent lives. Everyone from infants to older adults benefit from their expertise in an array of settings. Specifically, these professionals follow treatment plans created by licensed occupational therapists. The objective is to provide rehabilitative services to those with mental, behavioral, emotional, and physical conditions.
Occupational therapy assistants perform in a variety of situations. For example, they may help patients who have suffered a stroke learn new ways to improve coordination. Or, they may enable children who have developmental challenges to strengthen their motor and cognitive skills.
One path to enter this field is to earn a bachelor's degree in a healthcare-related field, followed by gaining work experience and obtaining a license. In terms of career outlook, occupational therapy is a growing field that offers many opportunities for career advancement.
What Does an Occupational Therapy Assistant Do? ¶
Occupational therapy assistants work with licensed occupational therapists to help individuals regain the skills to live a functioning life. They work with people of all ages in a variety of settings and are responsible for many tasks, including teaching patients how to use medical devices like crutches or prosthetics, helping with therapeutic exercises, stocking supplies, and operating equipment.
Some specific examples of therapy may include showing a patient how to transfer from a bed to a wheelchair, how to tie a shoe, and the best method of stretching muscles. Occupational therapy assistants also encourage patients to help them master new skills. Many occupational therapy assistants also complete clerical work which may include recording patient progress, confirming patient information, and maintaining medical records.
Where Do Occupational Therapy Assistants Work? ¶
Occupational therapy assistants may be employed in a range of environments where their expertise is needed. Depending on the employer, assistants may be asked to travel between locations for onsite care.
Data from the U.S. Bureau of Labor Statistics (BLS) reveals 45% of occupational therapy assistants work in offices of physical, occupational and speech therapists, and audiologists. The remaining employers include: hospitals (18%), nursing care facilities (15%), home healthcare services (7%), and educational services (6%). Assistants often work full time, and they may work evenings and weekends, depending on the needs of patients.
Occupational Therapy Assistant Education and Skill Requirements ¶
An associate degree is the minimum education to become an occupational therapy assistant. However, there are bachelor's degree programs that incorporate nonclinical curricula that prepare students for entry-level careers in occupational therapy.
Following graduation and completion of a specific number of supervised hours of experience, candidates may be eligible to apply for licensure, according to their state's requirements and guidelines.
In addition to the proper education, experience, and licensure, graduates also need a combination of qualities to excel in this field.
Physical Strength ¶
Occupational therapy assistants need the physical strength to assist patients through their therapeutic activities. They'll need to bend, kneel, and stand for long periods of time to help patients walk, stand, and perform daily living and work tasks.
Compassion ¶
Like any other physical therapy, occupational therapy involves working with individuals who are vulnerable. Occupational therapy assistants should be able to empathize with patients and provide emotional and physical support.
Communication ¶
Solid interpersonal skills—such as clearly communicating, being friendly and courteous—are essential to working directly with patients. Also, therapy assistants need strong communication skills to effectively speak with family members and relay information to other medical staff.
Detail Oriented ¶
To accurately follow written and verbal directions from care professionals, occupational therapy assistants should be detail oriented. Since occupational therapy assistants work with occupational therapists, it's important to pay close attention to directions when it comes to patient care and treatment.
Occupational Therapy Assistant Salary and Job Outlook ¶
Positions for occupational therapy assistants are projected to grow 24% from 2022 to 2032, according to the BLS. This higher-than-average job outlook is based on some key factors. These include the growing population of older adults needing therapy for serious medical conditions and ailments, such as strokes and arthritis.
As of May 2022, the median occupational therapy assistant salary was $64,300, per the BLS. Salaries vary by location, industry, and experience. The BLS notes workers in home healthcare services earned a median salary of $76,000, while those working for local, state, and private education services earned $58,700.
A September 2023 jobs report from the compensation website Payscale notes certified occupational therapy assistants may increase their earning potential if they gain specific skills or work in certain areas of occupational therapy.
Certification in Cardiopulmonary Resuscitation (CPR): 16% potential salary increase
Home Health/Home Care: 10%
Spanish Language: 3%
Geriatrics: 2%
Long Term Care: 2%
Certified Hand Therapist: 2%
Discover How to Become an Occupational Therapy Assistant with a Bachelor's Degree from Wilson College Online ¶
If you're interested in a rewarding career where you work directly with patients on their path to physical recovery, consider the occupational therapy assistant profession. This field has a promising job outlook, and with specialized training graduates could increase their earning power.
Wilson College Online has a 4-year, interdisciplinary Bachelor of Arts in Healthcare and Medical Humanities degree program. The curriculum intertwines liberal arts and health sciences, resulting in a comprehensive education suited for future therapy assistants. Our 100% online program has flexible coursework in subjects such as healthcare ethics, sociology, global health, narrative medicine, and interpersonal communication.
Get started today by pursuing an online degree from Wilson College Online.
Recommended Readings
Career Opportunities for Healthcare and Medical Humanities Majors
LPN vs. RN: Comparing Nursing Roles
Sources:
American Occupational Therapy Association, Learn the Steps to Licensure
Indeed, How To Become an Occupational Therapy Assistant in 8 Steps
Monster, Occupational Therapy Assistant Job Description Template
National Board for Certification in Occupational Therapy, License Eligibility
National Board for Certification in Occupational Therapy, What Does it Mean to Be Board Certified by NBCOT?
Payscale, Certified Occupational Therapy Assistant (COTA) Skills
U.S. Bureau of Labor Statistics, Occupational Therapy Assistants and Aides